If you get caught kissing under a mistletoe this Christmas, take a moment to look up and see what animals might be living there.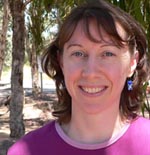 Ms Anna Burns, a PhD student with Charles Sturt University's (CSU)
Institute for Land, Water and Society
, has spent the past four years exploring just what does live in mistletoe. Mistletoe is a parasitic plant found throughout the world with 93 species found around Australia.
She discovered that while some insects will only live on and eat the leaves of mistletoes, spiders weren't any where near as choosy.
Ms Burns recently presented some of the findings from her now completed PhD thesis at the 5th International Canopy Conference in Bangalore, India in October this year. The conference was on forest canopies and their conservation, sustainable use and the effects of climate change. Forest canopies, while one of the least explored habitats in the world, support high numbers of plants and animals and contribute to the functioning of the atmosphere.
"We were reminded of the important role that forests play in reducing the effects of increased greenhouse gas emissions and climate change," Ms Burns said.
She investigated the types of invertebrates that live on mistletoe plants, compared with those living in the canopies of
Eucalyptus
trees, which in Australia are hosts to mistletoes. She found that the types of herbivorous insects, such as plant bugs or lerp insects, living on the mistletoes and eucalypt trees were quite different: 23 species were found in both plant groups, of which two specialise on mistletoes. In contrast, none of the 42 species of spiders collected from the mistletoe plants and eucalypt host-trees showed a distinct preference for either plant group.
"This isn't surprising since most spiders care more about the abundance of prey such as insects, rather than the plant they occur on," Ms Burns said. "However, insects that feed on plants are much choosier about which plants they live on. What's more, over the extent of the study area, which was around Holbrook in southern NSW and up to 45 km between sites, similar species of insects and spiders were found."
Ms Burns, who is now a research scientist with Monash University, concluded that the type of plant, rather than other habitat factors, was the most important factor determining the composition of the invertebrate communities.
These findings contribute to other recent mistletoe research, lead by her CSU research supervisor Associate Professor David Watson, which points to the importance of mistletoe in supporting the biodiversity and functioning of forests and woodlands.