An interest in how dairy cows digest their food, and the resulting methane burps, has taken a Charles Sturt University (CSU) student to the United States to further her research.
Bachelor of Animal Science (Honours) student Ms Lucy Watt spent two months at the W. K. Kellogg Biological Station (KBS) at Michigan State University (MSU) as a dairy research intern.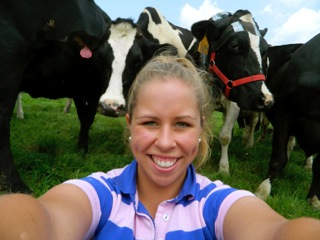 Ms Watt's Honours research is examining rumination and methane emissions in pasture-based dairy cattle.
"My research has investigated the variability of rumination within individual cows, which may provide a valuable insight into the physiological differences between animals," she said.
"Understanding this could help farmers optimise feed management strategies to reduce the cost of production, improve milk production and maximise on-farm efficiency.
"I'm also interested in whether it's possible to reduce methane emissions by altering cow rumination patterns.
"More than 98 per cent of Australian dairy farms incorporate pasture into their feeding system. My project was looking at altering rumination patterns in pasture-based cows by changing the concentrate fed in the bales as they're milked, and what effect that had on methane production."
Originally from Cumnock in central NSW, Ms Watt is studying at CSU's School of Animal and Veterinary Sciences in Wagga Wagga.
She jumped at the chance to undertake research at the Pasture Based Dairy Research Centre at the KBS in the US, with access to leading researchers and high-tech monitoring equipment.
Under the guidance of MSU's Assistant Professor of Animal Science, Dr Santiago Utsumi, Ms Watt's research involved recording the rumination time for cows and monitoring the methane emitted.
"The cows were fitted with a rumination collar- a sound sensor that sits on the neck to measure the rumination time so we could get an understanding of how the rumination pattern changes over time," she said.
"When the cows are being milked and have their heads in the feeder, a gas quantification system measured the concentration of methane emitted as they burp.
"We also looked at how changing the concentration of corn fed to the cows as they were milked altered the rumination pattern and the methane emitted."
Ms Watt said the opportunity to branch out and undertake her research overseas has added to her career options.
"I'm in my final year of study so I'm still deciding whether to carry on with post graduate research now or work in the field before returning to study," she said.
"This international research experience and being able to collaborate with leading researchers from other parts of the world is invaluable and compliments my studies here at Charles Sturt University."
Ms Watt's trip was supported by CSU Global, a university initiative that gives students the opportunity to experience the world through a broad range of international study experiences.
Her trip was also made possible by funding from the Future Dairy Program and through collaborative research links between MSU and Dr Cameron Clark, a Senior Research Fellow with the Dairy Science Group at the University of Sydney.
Listen to Ms Lucy Watt talk about her research here.