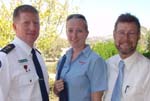 Charles Sturt University (CSU) and the Ambulance Service of NSW (Ambulance) have collaborated to offer the 'Ambulance Accelerated Pathway' to fast-track entry into the paramedic profession and guarantee employment with Ambulance while students still study for a paramedic degree.
"If accepted into this program, a student can commence paid employment as a Trainee Paramedic as well as receive financial support with their HECS fees during their third year of study. The student will also gain full recognition as a qualified paramedic with the Ambulance Service of NSW after three years of tertiary study at CSU," Professor O'Meara said.
"While students must complete at least one semester of their first year before they can apply, admission to the accelerated course means they can start as a Trainee Paramedic after the completion of two years full-time study. During this time they will be required to complete the equivalent of 20 subjects."
The benefits of the accelerated program include:
* A guarantee of employment within the first year of commencing studies, subject to successfully completing all subjects and Ambulance recruitment requirements;
* The opportunity to start putting theory into practice after only two years of full-time study. This enhances understanding of theory and increases understanding of paramedical science;
* The opportunity to earn an income after only two years of full-time study; and
* Achieving recognition as a qualified paramedic after three years rather than the standard four years for those students not undertaking the accelerated program.
"A student or graduate will need an unrestricted LR (manual) driver's licence in order to drive Ambulance vehicles, but as the cost of obtaining this licence can be approximately $700, Ambulance will advise applicants to obtain this once they have completed the selection process and are offered a position," Professor O'Meara said.
Visit the
Ambulance website
to obtain an overview of the Ambulance Service of NSW. Representatives from Ambulance visited nursing and paramedic students at CSU at Bathurst on Monday 9 March to provide application kits and discuss the initiative with interested students and their lecturers.