As if it wasn't enough to spend six straight days away from home and work studying for postgraduate qualifications, a group of midwifery students at Charles Sturt University (CSU) have donated money to help women in the Democratic Republic of the Congo (DRC).
During their recent six-day residential school at CSU in Wagga Wagga for their midwifery studies, the midwifery students donated $420 to a cause close to the hearts of their lecturers, Associate Professor Elaine Dietsch and Ms Pam Shackleton.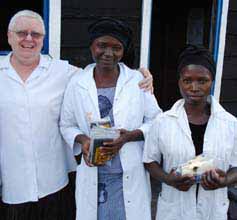 Associate Professor Dietsch said, "Pam and I will take this very generous and unsolicited gift from our students to the Democratic Republic of Congo to support local women to make birthing kits or for micro-financing projects for women. I assured the midwifery students that we will let them know how their gift was distributed."
In August, the academics will spend their time working with traditional midwifery attendants and in midwifery seminars in and around the capital Kinshasa.
"We have also been invited to spend time in a large maternity unit, visit a Kinshasa university and spend time with pygmy women. However, most of our time will be spent with childbearing women and their midwives living in villages in the Kinshasa area," Associate Professor Dietsch said.
This will be the CSU academics seventh visit to Africa for Faculty midwifery practice. She has previously worked in the east of DRC but that region is regarded as too dangerous to revisit due to the ongoing and worsening conflict.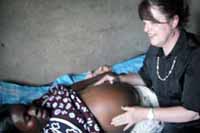 Her colleague Ms Shackleton travelled to Kenya in late 2010 with her luggage full of donated items including hundreds of underpants. Read more on CSU News
here
. This will be her first trip the DRC.
"My trip to Africa at the end of 2010 was a fantastic and enhancing experience in terms of experiencing midwifery practice in another culture," Ms Shackleton said. "I was also able to share my midwifery knowledge. It was a two-way street."
Associate Professor Dietsch said, "As well as this generous student donation, staff at Charles Sturt University continue to be very supportive of our work in Africa. Many of the University's educational designers have money taken out of their pay each month to go to DRC education projects. Some of our colleagues at the School of Nursing, Midwifery and Indigenous Health are also extremely generous in supporting the women every month through micro-financing projects."
Associate Professor Dietsch and Ms Shackleton will leave CSU in Wagga Wagga on Friday 9 August.
The CSU School of Nursing, Midwifery and Indigenous Health offers Registered Nurses a
Postgraduate Diploma of Midwifery
and Master of Midwifery – both by distance education.