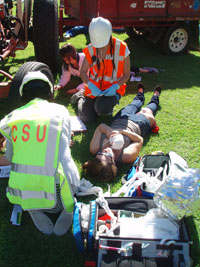 Charles Sturt University (CSU)
Bachelor of Clinical Practice (Paramedic) students
will soon be getting hands-on experience in a range of new settings thanks to a pilot program at CSU in Port Macquarie.
"Normally students in the paramedic program train only within the ambulance service," she said.
"This program is expanding that training into other allied health settings such as mental health clinics, wound clinics and indigenous health centres."
Ms Maria said while most people think paramedic work revolves around emergency response, the job also involves low acuity work.
"Much of our role these days is multi-tasking in response to a myriad of differing health needs and referral work," she said.
"Up until now most of our undergraduate training has been focused upon primarily emergency work but we also want to start incorporating these other work environments so students get a broader experience and start to understand referral pathways and the system as a whole"
The pilot program has worked to educate local health services about how they might benefit from hosting paramedic students on placement and Ms Maria said the feedback has been very positive.
"For example, the local mental health crisis team might not immediately see how they would use a paramedic placement, but many of our calls involve mental health patients," Ms Maria said.
"If our students have the opportunity to spend some time with the crisis team to understand what they do and how they operate, they are much better placed to help and refer to them in the future.
"When the paramedic responds to a job that involves a mental health patient they are then able to explain to the patient and to the family how the crisis team could help, how the patient can engage with them and so on."
Ms Maria said the funding also assisted the University to buy and refurbish a simulation ambulance for training.
"The simulation ambulance will be fitted with the same equipment and software paramedics would use on the job," she said.
"It will allow students to learn the systems and software they would use on the job before they join the workforce."