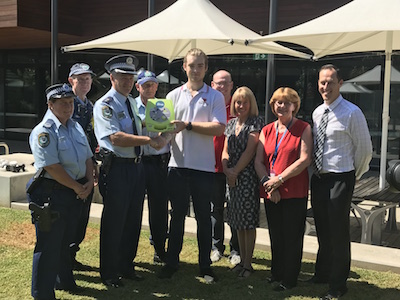 The Port Macquarie and Kempsey communities will benefit from life saving devices presented to the NSW Police local area command by Charles Sturt University (CSU) on Wednesday 6 December.
Established by CSU paramedic students, this is the third year that The Student Heart Project (SHP) has held a Red and Blue Ball at Panthers to raise money and awareness for public access to defibrillators.
With the SHP contributing to the purchase of one defibrillator, the CSU in Port Macquarie Head of Campus, Faculty of Business, Justice and Behavioural Sciences and Faculty of Science donated another to the Mid North Coast community.
"Charles Sturt University is committed to making a difference to people's lives and ensuring the community has access to state of the art equipment and services," said Executive Dean of Justice and Behavioural Sciences in the Faculty of Business, Professor Tracey Green.
CSU paramedic student Mr Brandon Robinson said, "The local area command currently has only one defibrillator which the tactical response group use during their training.
"Now there will be one at the Kempsey station and one at the Port Macquarie station so that, when police are first on the scene at a critical incident, they can use the defibrillator until the paramedics arrive."
The defibrillators will be presented to a representative from NSW Police by Professor Green, Pro-Vice Chancellor Professor Heather Cavanagh, School of Biomedical Sciences lecturer Mr Philip Ebbs, and CSU paramedic students at Student Central at CSU in Port Macquarie at 10am Wednesday 6 December.