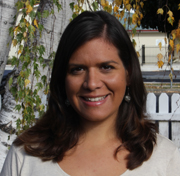 Months of dedicated training will soon be tested when Charles Sturt University (CSU) student and staff member Ms Elise Hull joins her Indigenous Marathon Project (IMP) team mates this week to compete in the New York City Marathon.
The Vice-Chancellor and President of CSU, Professor Vann, said, "I'm sure all staff and students at Charles Sturt University join me in wishing Elise good luck at this major mass-participation event in New York. We're proud of her aspiration and her dedication to work towards this goal. She's a true role model who demonstrates what motivated and supported individuals can achieve by developing physical endurance and mental strength."
Ms Hull admits to trepidation at the journey and the effort ahead, but is positive and enthusiastic.
"I think I'm scared of the 42 kilometres distance because I know that running 30 kilometres can be pretty painful," Ms Hull said. "In quiet moments, I also wonder if all the work I've done has been enough. But ultimately, I trust in my training I've been provided with, and I'm excited to line up on that starting line with about 45 000 other runners. I'm also really looking forward to catching up with the IMP squad. They've really become like family now, and it will be lovely to spend some time with them.
"I'm carrying a bit of a knee injury at the moment. It hit the moment I started tapering a week ago. So I've basically been living at physio, doing strengthening exercises, lots of stretching and foam rolling. I haven't run for a few days, which is nerve-wracking, but I'm focusing on the positives: I'm fit, I'm strong, and I'm determined. We're hoping that these last few days of rest will strengthen it up in time and will see me cross the finish line."
Ms Hull said CSU has provided strong support of her involvement with the IMP from the very start.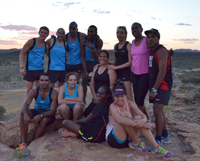 "In particular, the Indigenous Student Services staff donated a Garmin running watch to me after the Gold Coast training camp," she said. "This watch has seen me through hundreds of kilometres of training, and I'll be thinking of them and their support when I strap it on at the start line in New York. My boss, Dr Barbara Hill, has really looked out for me throughout this whole time, making sure I'm OK, and ignoring my 'marathon brain', which I'm very grateful for. Many other staff members have been actively involved in encouraging me, and a special shout-out to Pam Gibbons who gave me a container of Body Glide to help with chafing! I'm sure I'll need it.
"It's all very exciting. This year has seen me do more things than I ever could have imagined, and I've become a much stronger person because I believe in myself so much more. It's nice to feel confident in my abilities."
The principal partner of the Indigenous Marathon Project is the federal Department of Health and Ageing. Ms Hull is also fundraising with the aim to raise at least $2 000 for the Indigenous Marathon Project. Donations can be made here:
http://footprints.gofundraise.com.au/page/newyorknewyork
People can follow the IMP team's progress via Facebook
https://www.facebook.com/TheMarathonProject
, twitter
https://twitter.com/IndigMaraProjct
, or online
http://imp.org.au/
.