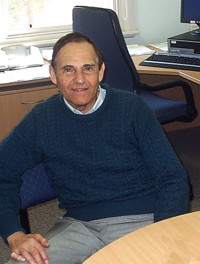 Associate Professor Charles Fogliani AM has had a life-long love affair…but his wife doesn't mind. It's Chemistry he feels passionate about and will devote even more time to now that he is retiring after 36 years at Charles Sturt University (CSU).
Charles and Mary Fogliani run the Australian National Chemistry Quiz together and have done since 1985, seeing it grow from a New South Wales state competition to one now involving 15 countries throughout the Asia Pacific region.
For his efforts, Associate Professor Fogliani has received the Order of Australia for services to education, particularly in the Advancement of Chemistry Education. He is a Fellow of the Royal Australian Chemical Institute (RACI) and has edited 19 volumes of the Australian Chemistry Resource Book.
He is also the recipient of several other awards including the 1998 New South Wales Council of Professionals Award for Outstanding Professional Services to the Community, the Royal Australian Chemical Institute Citation for long and distinguished services to National Chemistry Week, the Royal Australian Chemical Institute Chemical Education Division Citation for 1986 and medal in 2005, and the Federation of Asian Chemical Societies (FACS) Inaugural Award for Distinguished Contribution to Advancement in Chemical Education in the Asian region in 2003.
Charles says he has "fond memories" of his time at CSU. "I've really enjoyed being here. I have seen massive change, starting in 1970 when the Bathurst Teacher's College became Mitchell College of Advanced Education, and then and from there of course it has grown into a University.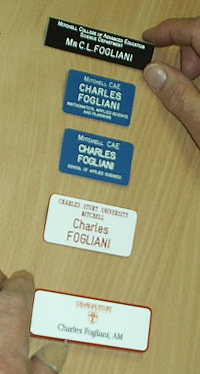 "As a University in regional Australia it is extremely important that we foster the role and significance of the Sciences. CSU's Pharmacy course and now the new Clinical Sciences degree are both significant developments. It is tremendous that students in the Central West of NSW have the opportunity to study the Sciences."
After initially developing primary science for teacher education students, Charles then helped establish a joint associate diploma with the then Orange Agricultural College. The Associate Diploma in Environmental Control was according to Charles a "ground-breaking" early example of education partnerships.
In 1984, Charles oversaw the transfer of nursing training from Bathurst hospital to MCAE. "I had been teaching at Bathurst hospital since 1972, and became chairperson of the committee that developed the nursing course. They were exciting times".
"After that the next step for me was moving across to the School of Public Health as Head of School, and getting the Bachelor of Clinical Practice (Paramedic) on a sound foundation and developing good relationships with Ambulance Service of NSW. There is now a high level of cooperation between the Ambulance Service and CSU that will continue and flourish."
Charles plans to spend his retirement enjoying time with his family, travelling and "putting a lot more time into the Australian National Chemistry Quiz". He does, however, think he will miss his former colleagues. "They are a great group of people, it's a very harmonious department. I'm really proud of them."