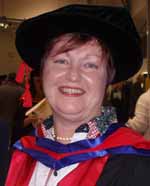 Research by a Charles Sturt University (CSU) academic has identified 15 recommendations to address a range of shortcomings in the professional development of health services managers in rural New South Wales (NSW).
Dr Louise Brown, who recently graduated with a PhD in Health Services Management from the
School of Biomedical Sciences
at CSU in Bathurst, said her study investigated the work-life experiences of rural NSW health services managers in order to develop a greater understanding of the link between manager practices and their education, learning and professional development needs.
"These recommendations are grounded in the experiences of the study participants in the public acute and residential aged care sectors in rural NSW," Dr Brown said.
"They highlight deficiencies in current policy in this important area of health service delivery, and provide a basis for policy development and implementation.
"For example, I recommend that continuous professional development for clinician-managers in rural health settings is vital and should be implemented as widely as possible throughout the rural sector by health organisations.
"I also recommend that recruitment, selection and induction policies in health organisations should acknowledge that clinicians and others who apply for management positions will need a program of development, including mentoring and coaching, and a range of other support strategies appropriate to the contexts in which they work.
"Besides their importance for policy formulation, each of the recommendations could be used as a foundation for further research into the role of rural health services managers and factors that impact on that role."
Dr Brown adopted a Grounded Theory methodology for her research. This included the development of a Manager Learning Typology and Learning, Training and Education Strategies for Rural NSW Health Services Managers.
"The methodology offers a valuable tool for educators, trainers, education coordinators and managers as it provides a framework for remodelling training and development options in the rural sector, and enables strategies and approaches to assist managers develop interventions to negotiate future training and education challenges," Dr Brown said.