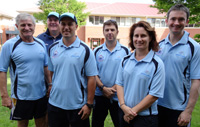 Thirteen Charles Sturt University (CSU) students fly to Samoa next week to promote health to school children on the Pacific island nation, through the game of rugby union.
The nine female and four male students from the CSU
School of Human Movement Studies
in Bathurst will be accompanied and supervised by lecturers Dr Matthew Winslade and Dr Eric Drinkwater, as part of the University's involvement in the
Pacific in Union: Mass Participation Program – Rugby4Schools
. In its initial phase in 2012, the program targeted three countries; Papua New Guinea, Samoa, and the Solomon Islands. In 2013 the program is targeting the increased participation of female students within physical activity programs in the Pacific region.
"The Pacific in Union program offers benefits for students and communities in the host nation, but just as importantly it is an amazing opportunity for our students to immerse themselves teaching in another culture," Dr Winslade said.
"Our participation is possible because the Australian Rugby Union, the International Rugby Board, and the Australian Government recognise Charles Sturt University's capacity to provide expertise that promotes the objectives and desired outcomes of the Australian Sports Outreach Program's Pacific Sports Partnerships.
"This is a wonderful chance for pre-service teachers from Charles Sturt University to gain international work experience and contribute to the development of individuals, the sport of rugby union, and the community of Pacific nations.
"I believe the Pacific in Union program will make a genuine contribution to participating schools and will have a positive impact on all the students involved in the program. Our students will be supported in their roles in the classroom and on the playing fields by Australian and Samoan rugby union officials," Dr Winslade said.
The professional practicum experience to Samoa is supported by
CSU Global
, and is possible due to the CSU
Faculty of Education
Pre-service Teaching program. The key objectives are to:
Give students a valuable insight into teaching in a different cultural context;
Make a contribution to the schools where CSU students are assigned and to build an ongoing relationship between the Bathurst education community and Samoan schools;
Gain a greater appreciation and understanding of schooling in a different cultural setting;
Acquire an increased capacity to reflect on teaching practices;
Increase inter-cultural competence.