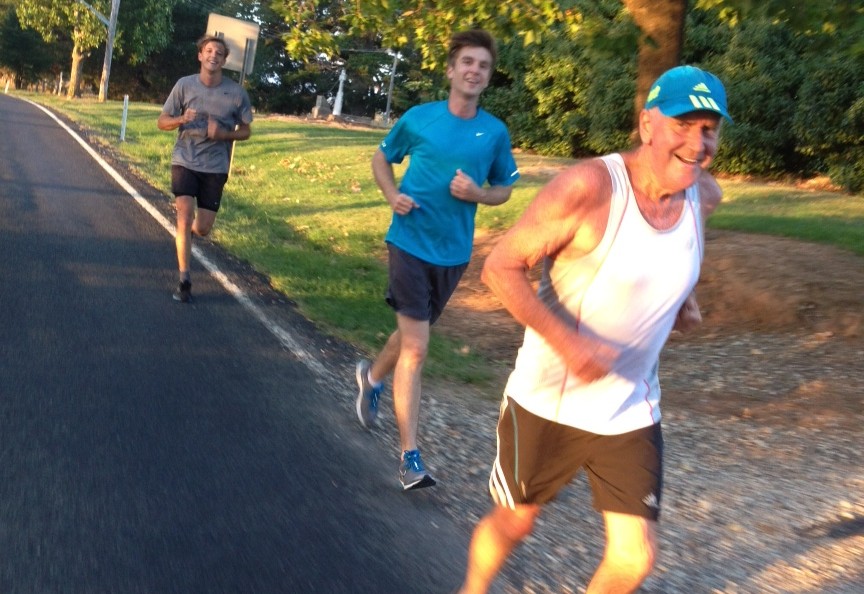 Two students from Charles Sturt University (CSU) in Orange are preparing to see the sights of Paris, but they'll be doing it the hard way by joining the Paris Marathon in April.
Mr Paschal Grenquist, 27, and Mr Daniel Unger, 23, are both 4
th
year
Bachelor of Dental Science
students who can trace their upcoming trip back to a McLachlan Street coffee house.
It was there the pair bumped into former CSU Dean of Education, Professor Bob Meyenn, and bonded over a shared love of coffee.
"We've been going to the same place for our morning coffee since we started our course and we bumped into Bob there one day and struck up a friendship," Mr Grenquist said.
"Bob's a keen runner who regularly runs marathons and Daniel has run two himself. We were talking earlier in the year and we decided it would be great if we could run one together as a group."
The trip will be the second time Professor Meyenn has run the Paris Marathon, and he has previously completed the Rome and Berlin marathons once each and the New York Marathon seven times.
Professor Meyenn, who turned 69 in February, said his interest in long-distance running had been sparked by a staff fitness program when he worked at CSU in Bathurst.
"One of the physical education lecturers was matching staff with students who would design a personal fitness program and I thought I should set a good example by participating," he said.
"I was 61 when I ran my first full marathon in New York and I've run at least one each year since then.
"New York is my favourite event, but running the Paris Marathon is a wonderful experience. You're running down the Champs Elysees and past the Arc de Triomphe."
Mr Grenquist said he had harboured some doubts about whether he would be able to run the full distance, but a recent training run from Orange to Millthorpe, 25km away, had settled his nerves.
"We ran there in two and a quarter hours," he said.
"I was worried I would give up before I got there but running with Daniel and Bob helped me stay focused and I'm confident now I can do the full marathon."
Professor Meyenn said in his experience, preparation is the key.
"If you have trained properly and your body is fit enough then it is just determination and patience, just being able to let the kilometres look after themselves," he said.
"By the half-way mark your body is telling you to stop this stupidity and sit down but you have to be determined enough to push through it.
"You're pretty well exhausted by the end but it doesn't do any lasting damage. I usually go out and have a couple of beers afterward."