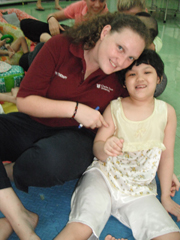 A group of Charles Sturt University (CSU) allied health students put their theory into practice recently when they completed one of their final-year, five-week workplace learning placements at an orphanage in Ho Chi Minh City, Vietnam.
Ms Grace Pitts, who is in her fourth and final year of physiotherapy studies at CSU in Orange, was one of eleven students from CSU in Orange and Albury-Wodonga to visit the Chua Ky Quang orphanage to work with children with disabilities.
Ms Pitts said the overseas trip was her second with CSU, following a volunteer mission to Nepal last year funded by
CSU Global
, and all students were grateful for the support of Orange and Albury residents who had contributed $3 500 through a range of fundraisers.
"Ho Chi Minh City is huge; it was just so big and so busy," Ms Pitts said.
"We had a 45-minute bus ride to and from the orphanage each day, and the orphanage itself was quite overwhelming initially.
"There were nine rooms where the children live with their carers and one therapy room. The carers work one to a room and are often feeding and caring for multiple children at any one time."
Children in the orphanage live with various congenital and acquired disabilities, and Ms Pitts said the CSU students worked in teams on interventions to make their lives easier.
"Some kids had disabilities caused by their parents' exposure to 'Agent Orange', some had Down Syndrome or cerebral palsy," she said.
"I worked in the therapy room. We worked on things like sitting balance and sitting position, and on wheelchair modification and education on splint use.
"The language barrier was a challenge, and it probably took us all about two weeks to get the hang of things, but it was good to contribute some education to the orphanage and it was great experience for all the students."
The students, who are studying
physiotherapy
,
podiatry
,
speech pathology
or
occupational therapy
at CSU, were accompanied by occupational therapy lecturer Associate Professor Michael Curtin, podiatry lecturer Ms Kristy Robson, and physiotherapy lecturer Ms Kay Skinner. CSU also collaborates with Yooralla, a disability organization based in Melbourne, which provides allied health staff to work with the students when at the orphanage.
Ms Skinner said CSU allied health students had been working with the Buddhist-run Chua Ky Quang and state-run Thi Nghe orphanages in Ho Chi Minh City since 2001.
"These trips are fantastic experiences for students and staff, from both learning and personal perspectives," she said.
"Students develop their professional skills by working with children in need, and by navigating the challenges presented by the language and cultural differences, while also working really closely with other professions.
"Charles Sturt University's focus on inter-professional learning reflects the increasing interest from governments and the wider industry trend toward team-based healthcare.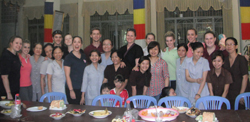 "Students within each discipline learn to cooperate for the good of the children. It produces graduates who can work better in a modern health care system and who can hit the ground running."
For her part, Ms Pitts is focused on continuing to work with children in need after she graduates at the end of the year.
"I love working with children, especially those with a disability," she said.
"You have to be involved with the kids themselves, their parents, their teachers, their sporting coaches. You can really make a difference to a whole family's life."