Families can save up to $2 000 a year if they purchase healthy, generic food from supermarkets, a Charles Sturt University (CSU) study has found.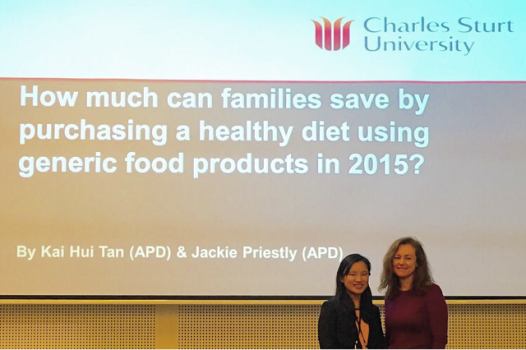 The study, conducted by CSU nutrition and dietetics graduate Ms Kai Hui Tan and lecturer Mrs Jackie Priestly, shows that a family of four (two parents, an 18 year old girl and 8 year old boy) can save on average 20 per cent of the cost of a basic healthy diet for two weeks by choosing generic products over branded items.
The study focussed on 10 chain store supermarkets and seven independent grocery stores in Wagga Wagga and Albury in NSW in August 2015. Prices were collected in each store using both standard Victorian Health Food Access Basket product selection method and a modified method collecting the cost of the cheapest generic food item where available.
Mrs Priestly said, "If a family choose their food this way they could potentially save around $82 per fortnight or about $2 141 per year on a basic healthy diet.

"There are potential cost savings across all of the food groups through purchasing generic food items. The biggest savings can me made in achieving the recommended number of serves in the cereal and dairy group."
The basket of basic healthy food included items such as wholemeal bread, baked beans, rolled oats as well as fresh food.
Mrs Priestly said, "This study shows that households can be confident that selecting generic food products provides opportunities for significant savings to reduce the cost of a healthy diet regardless of where they shop although the savings are likely to be higher at large chain supermarkets.
"The study isn't about promoting generic food products over branded food items but it is aimed at helping households on a limited budget save money on a healthy diet."
The study, How much can families save by purchasing a healthy diet using generic food products in 2015, was presented at the annual Dietitians Association of Australia 33rd Annual Conference in Melbourne on Thursday 19 May.