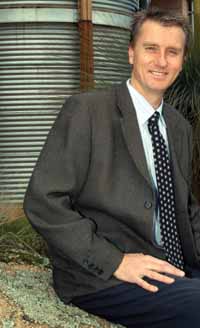 The Dean of the Faculty of Science at Charles Sturt University (CSU), Professor Nick Klomp, called on the Federal Government to accelerate its consideration of CSU's proposal for a new rural medical school in light of findings by the Australian Institute of Health and Welfare (AIHW) that health services are becoming less accessible for the majority of people living in rural and regional Australia.
A new report released by the AIHW titled
Australian health expenditure by remoteness
looks at differences in Government expenditure on health services in rural and metropolitan Australia for the period 2001-2 to 2006-7 (the latest period available).
"This new report gives us greater insight into the scale of the inequality experienced by rural communities," Professor Klomp said.
"The report found that Medicare expenditure per person for medical services in 2006-7 was $761in the Major cities compared with just $636 in Inner regional areas, $567 in Outer regional areas and $391 in Very remote areas.
"This means that for every dollar spent by the government on Medicare services per person in our major cities, only 51 cents was spent on the same services in very remote areas.
"Of greater concern, the report found that expenditure on GP services for the majority of rural Australians has declined over the period 2001-2 to 2006-7.
"While there has been an increase in expenditure on people living in the most remote parts of Australia, total payments for GP services declined by 3.5 per cent in Inner Regional areas and 3.0 per cent in Outer regional areas. Over the same period, Medicare expenditure increased by 4.5 per cent in our major cities.
"It is widely recognised that lower levels of expenditure on rural health care is a direct result of chronic shortages of doctors and other health practitioners in many parts of rural Australia.
"Rural Australia has around half the number of doctors per head of population compared to our major cities. You can't submit a Medicare claim if you can't get an appointment to see a local doctor or health professional.
"The National Rural Health Alliance has estimated that the shortfall in expenditure on rural health services is in the order of $2 billion.
"At the same time, the AIHW found in Australia's Health 2010 that more than 4 600 rural Australians die unnecessarily every year. This is due in part to the shortage of doctors and other health professionals in rural communities.
"With rural populations growing and ageing, it is critical that we turn around the shortage of doctors and health professionals in the near future.
"While the Government has spent hundreds of millions of dollars over the last decade to try to get metropolitan health graduates to practice in rural areas, independent studies have found that metropolitan graduates are highly reluctant to work in the bush in sufficient numbers.
"A recent independent review found that there has been a 4 per cent decline in the number of Australia- trained doctors in rural practice in the last ten years, despite the money that has been spent.
"If we are going to improve health services and arrest the unacceptable rate of unnecessary deaths and chronic illness in rural communities, we need to train doctors and other health professionals who are committed to working in rural areas.
"We need to expand the health and medical education in rural Australia if we are to get more rural students into those courses. It is well known that if we train rural students in the bush, they will remain in the bush to work.
"Charles Sturt University has proven this with more than 70 per cent of the University's on-campus students in health sciences coming from a rural area, and more than 70 per cent of those commencing employment in rural areas, and up to 90 per cent in some health disciplines," Professor Klomp said.
CSU submitted a proposal to the Prime Minister in December 2010 for a one-off grant of $98 million to establish a new Integrated Primary Health Education facility in Orange. The new facility would include a new rurally-based medical school and would allow CSU to rapidly expand the number of doctors, dentists, pharmacists, nurses, physiotherapists, occupational therapists and social workers in rural practice. The University is waiting on the government's response.