*$22 million announced for development of the CSU-WSU medical school based in Orange, NSW
*Approximately 140 students will begin medical studies in broader Murray-Darling region each year once medical schools are operational
*CSU will train medical students to develop unique rural and regional health skills
Charles Sturt University (CSU) has welcomed the announcement today by Senator the Hon. Bridget McKenzie of a $74 million investment in the Murray-Darling Medical Schools Network, with CSU allocated $22 million for the joint CSU-Western Sydney University (WSU) medical school.
CSU and WSU are partners in the development of a Joint Program in Medicine which will establish a medical school based in Orange.
The first student cohort for an undergraduate medical degree is set to commence in 2021.
CSU Vice-Chancellor Professor Andrew Vann said CSU is at the forefront of rural and regional medical training, creating qualified doctors who will understand the particular health needs of regional communities.
"Charles Sturt University welcomes the Government's commitment to rural and regional medicine," Professor Vann said.
"In partnership with Western Sydney University, we are developing the curriculum for the Joint Program in Medicine, in consultation with the community, to deliver highly skilled medical professionals for the future of our regions.
"The funding for the CSU-WSU medical school is another step that brings rural and regional Australians closer to accessing high quality healthcare, just as city-based Australians do."
Minister for Regional Services and Decentralisation Senator Bridget McKenzie said the Network addressed a common concern across rural and regional Australia – attracting and retaining doctors who understand local issues and concerns. Once all medical schools are operating approximately 140 students will begin their medical studies across the Murray-Darling region each year.
"The current model of medical training, which predominantly happens in the cities, will be turned on its head. The majority of training will happen in the regions and rotations to metropolitan areas for specialist experience kept to a minimum," Minister McKenzie said.
The $22 million in funding will pay for capital works including construction of a new "academic hub", with an Indigenous Student Support Centre, conference room and research centre.
Existing buildings will be refurbished and extended to create modern learning spaces for medicine and health sciences and an ultrasound room.
A new Clinical Education Learning Centre will also be developed at the Orange Base Hospital campus.
Minister McKenzie said it wasn't only students who would benefit from the innovative Murray-Darling Medical Schools Network, but also the communities.
"When the students have completed their medical studies and are fully qualified, many will choose to look for work in the Orange and Central West region which will give a huge boost to the rural medical workforce in those areas," Minister McKenzie said.
Federal Member for Calare Mr Andrew Gee said the announcement was the beginning of something great for the region and country Australia.
"Today's announcement is the culmination of many years of lobbying by the communities of the Central West who have been united in the push for a new medical school because they know only too well about the shortage of country doctors," Mr Gee said.
"This new medical school will change the way medicine is taught and practised in country Australia by training doctors in the bush, for practise in the bush. It will also set the Central West up as a hub for medical training and research. There are billions of dollars in medical research grants up for grabs and this region will be playing an increasingly active role in the medical research field."
The Murray-Darling Medical Schools Network is part of the Government's $550 million 2018-19 Budget investment in the Stronger Rural Health Strategy to improve access to health services for people living in regional, rural and remote areas of Australia.
Senator the Hon. Bridget McKenzie made the announcement, supported by Federal Member for Calare Andrew Gee and CSU Vice-Chancellor Andrew Vann at 9.30am Friday 14 December at CSU in Orange.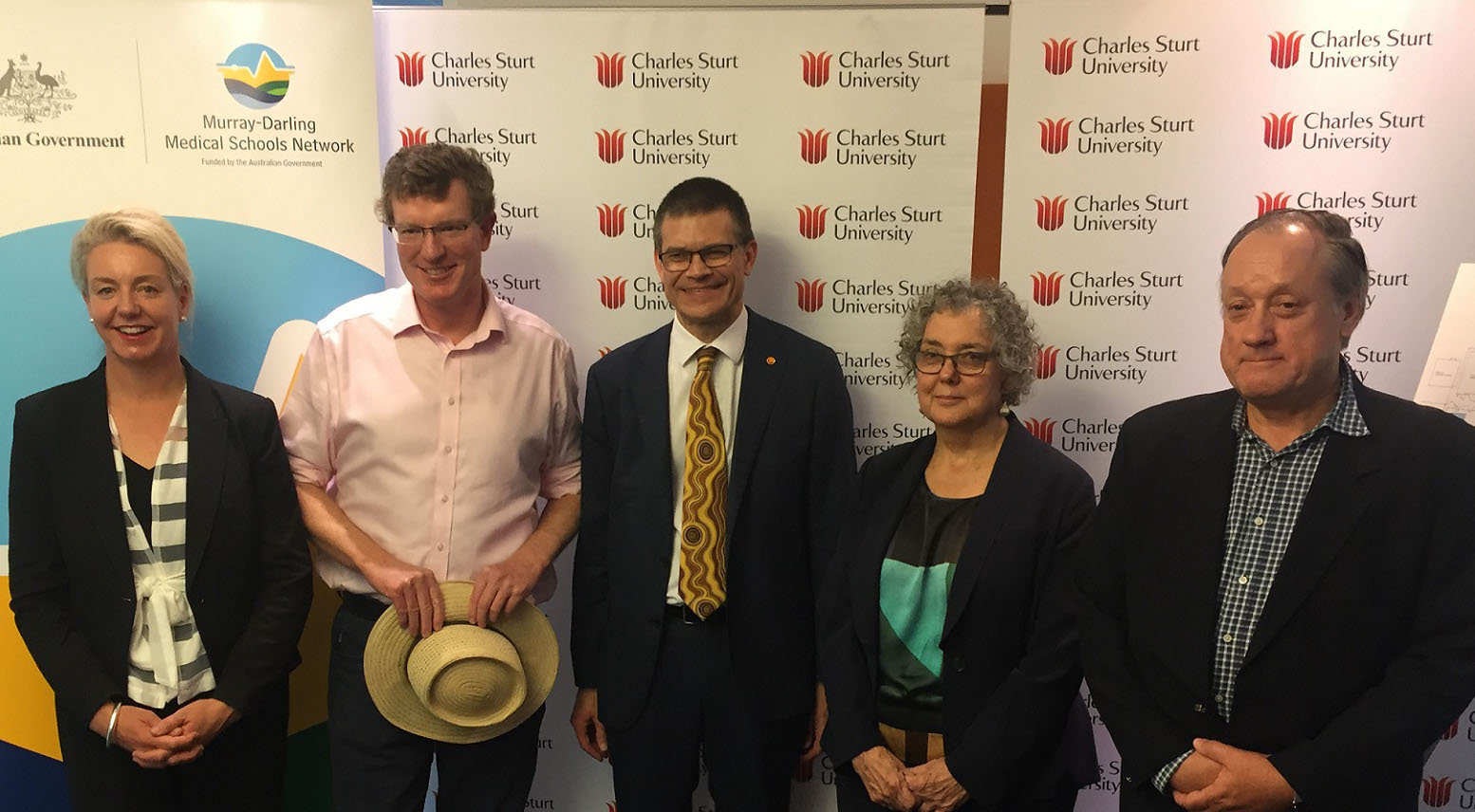 Pictured L-R: Senator the Hon. Bridget McKenzie, Federal Member for Calare Andrew Gee, CSU Vice-Chancellor Andrew Vann, CSU Interim Head of School Professor Amanda and WSU Associate Professor Tim McCrossin.