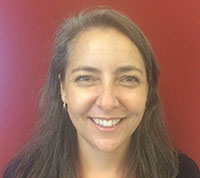 Speech and language pathology research in Fiji by a Charles Sturt University (CSU) PhD graduate has been praised by her supervisors for its high standard and far reaching applications.
The doctoral research by PhD graduate Dr Suzanne Hopf (pictured), who graduates from the CSU School of Teacher Education at the CSU graduation ceremony in Bathurst at 9.30am Thursday 14 December, aimed to identify and create culturally and linguistically appropriate support for children's communication in Fiji.
The research, titled 'Supporting Fijian children's communication', was intended to inform practices of speech-language pathologists (SLPs) and other communication specialists. It describes a mixed-methods study that was conducted in four stages and is presented as a series of nine publications (one book chapter and eight journal articles).
Dr Hopf said, "The findings of this research acknowledge the social, cultural, and linguistic capital of Fiji to inform provision of services to people with communication disability (PWCD) in Fiji.
"Recommendations from this doctoral research include the need to (1) develop culturally appropriate assessments and interventions that acknowledge Fijians' belief systems, build on communities' communication strengths, and involve partnership with the diverse agents of intervention in Fiji; and (2) consider the cultural and linguistic environment and the purpose of communication when assessing multilingual children in Fiji."
Dr Hopf, a dual Australia-Fiji citizen who lives in Fiji, explained that to build communication capacity in Fiji, a four-stage research process was undertaken, and these research stages have potential applicability in similar Majority World countries.
Stage One analysed Fijian policy and literature. Stage Two surveyed 144 Fijians to determine beliefs, attitudes, and practices for supporting people with communication disability. Stage Three determined communication profiles of 75 Fijian children, parents, teachers, and others. Children were linguistically multi-competent using up to five languages. Stage Four created resources and assessments to support Fijian children's communication.
Dr Hopf has been praised by her PhD thesis examiners for her 'seminal' thesis 'Supporting Fijian children's communication'.
One examiner wrote, "Ms Hopf has demonstrated how research and program development should be conducted in Majority World cultures".
Another examiner wrote, "This research is not only important to Fiji, but is predicted to have far reaching implications for other countries, languages and for clinical applications. This thesis has the hallmark of innovative, critical thinking and exceeds the requirements of a doctoral thesis. The mixed-methods research design conducted in four stages and presented in nine articles is viewed to be a gold standard on a doctoral level. … In over 30 years of external examining (of PhD theses) this thesis stands out as one of the best that I have had the privilege of reading. It is suggested that this dissertation be recognised for its excellence at the university level."