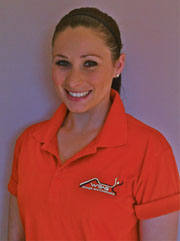 A Charles Sturt University (CSU) human movement studies student has been awarded a prestigious scholarship from the National Strength and Conditioning Association (NSCA) in the United States, and is the first Australian and only non-American to do so.
"Studying at Charles Sturt University has not only allowed me to expand my knowledge about the human body in an exercise and rehabilitation setting, but it has also opened up new opportunities that I wouldn't have been exposed to otherwise," Ms Trifogli said.
"I wouldn't have been awarded this scholarship if it wasn't for the help and support offered to me from the academic staff within the School of Human Movement Studies and the
Western Region Academy of Sport
strength and conditioning team."
The
NSCA
is based in Colorado, USA, and is the leading strength and conditioning education institution worldwide. Its Women's Scholarship in Strength and Conditioning was first offered in 2001, and is designed to encourage women, aged 17 years and over, to enter the field of strength and conditioning. Applicants must demonstrate that they have been accepted into an accredited institution and are working toward an undergraduate or graduate degree in the field of strength and conditioning.
Dr Stephen Bird, senior lecturer at the School of Human Movement Studies, said, "This is an outstanding achievement by Sarah. As a strength and conditioning intern in the School of Human Movement Studies and the Western Region Academy of Sport program, she has demonstrated her abilities in training pre-elite and elite youth athletes in readiness for major competitions.
"Sarah has developed comprehensive movement screening skills in assessing athletes' movement efficiency and injury risk. This led to her being invited to attend the Australian Softball Championships to assess 75 Australian representative athletes (boys U17s, girls U19s). She's shown that she has the capacity to work as a high-performance strength and conditioning coach, and I look forward to watching her career develop."
Ms Trifogli said juggling the workload involved in both full-time university study and the demands of the strength and conditioning internship is stressful, but she can see how the combined skills she has learned will benefit her future career.
"I applied for this scholarship earlier this year with a bit of knowledge about the NSCA, but very little knowledge about the scholarship itself. It wasn't until after I had received the congratulatory email notification that I learned of the significance of the award and what it meant," she said.
"I was excited to win, but knowing that I am the first Australian and the first person outside the USA to do so is an incredible bonus. I'm excited to get out there and show the world what I can do now!"
Ms Trifogli plans to take a holistic approach to athlete injury prevention and rehabilitation management after completing a postgraduate degree.