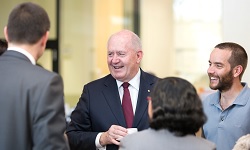 Australia's Governor General, His Excellency the Honorable Sir Peter Cosgrove, AK MC, inspected Charles Sturt University's (CSU) award winning National Life Sciences Hub (NaLSH) as part of his visit to CSU in Wagga Wagga on 2 October.
He was greeted by CSU Vice-Chancellor Professor Andrew Vann as well as other senior staff and research students.
"The NaLSH is an integrated hub for food security and human, plant and animal health. It is a state-of-the-art research, learning and teaching complex built to strengthen the University's and the nation's excellence in research and education," Professor Vann said.
"Through this facility, we aim to achieve significant outcomes in plant and animal sciences, food production and security, animal health and water and environmental sciences.
"Sir Peter was impressed by the focus of the NaLSH facility on the needs of Australia and its regional communities."
The Governor-General was also shown how the NaLSH was itself a model of sustainable development. It was designed to use 35 per cent less energy than similar conventional buildings using increased insulation and double glazed windows to decrease heating and cooling and fewer artificial lights. It was also built using recycled or sustainably sourced materials.
"By showcasing the NaLSH, we aimed to demonstrate to the Governor-General Charles Sturt University's drive and know-how that addresses the nation's future intellectual and technological requirements, particularly for regional Australia," Professor Vann said.The Governor-General visited CSU after opening the annual Wagga Wagga agricultural show.