Charles Sturt University (CSU) researchers are working with scientists in Germany to better understand a protein that has been linked with cancer.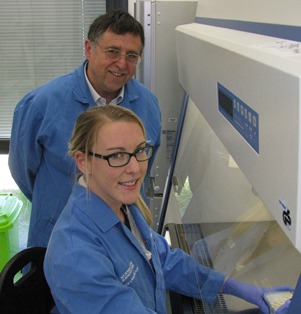 Dr Michael Cahill from the School of Biomedical Sciences at CSU in Wagga Wagga has been awarded funding through the Universities Australia - Germany Joint Research Co-operation Scheme.
His work is focused on pancreatic cancer, the fifth most common cause of cancer death in Australia.
"The high mortality and poor survival rates for pancreatic cancer have not improved for nearly 40 years," said Dr Cahill.
"Using cell culture in the laboratory here at Charles Sturt University we are looking specifically at how a particular protein interacts with other proteins inside the pancreatic cancer cells.
"This protein might prove to be a new pathway to target pancreatic cancer."
The research project involves CSU and the University of Dusseldorf where researchers are looking at the same protein but in breast cancer.
It builds on more than a decade of collaborative research that began when Dr Cahill was an industrial scientist in Germany.
"Originally we discovered that this protein was differently modified in breast cancers that were oestrogen receptor positive or negative," he said.
"When we mutated some of the residues in the protein, it changes the properties of the cells greatly.
"We've found that in the pancreatic cancer cells it can change the metabolism, the shape. We believe that this protein is central to very important cell biology in pancreatic cancer cells.
"The long term hope is that we can understand the mechanisms that these cancer cells are using to survive and that will lead to new ways of treating the cancer."
CSU PhD student Ms Sarah Williams will travel to Germany in June to conduct laboratory experiments over three months.
"They have a fully functioning hospital with a research lab and I'm very excited to be part of this international collaboration to be able to take advantage of the resources and technology available there," she said.
A German PhD student will then visit CSU in Wagga Wagga in mid-October and in 2017.
The Australia-Germany Joint Research Co-operation Scheme aims to foster research collaboration of the highest quality between Australian and German researchers.