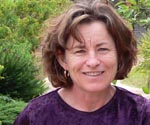 Does living close to Nature really make a person feel better and improve their well-being? Does it matter what your local neighbourhood environment is like? Does having a more diverse environment – or biodiversity - around have greater positive impact on human health?
Researchers from Charles Sturt University will combine psychological, sociological and ecological information to answer these questions in a research project titled The nature of our neighbourhoods: links between biodiversity, human well being and our connection to the environment.
As part of the project, a questionnaire will be sent in July to householders in 36 local neighbourhoods in Albury, Wodonga, Wangaratta, Shepparton, Mildura, Ballarat, Bendigo, Warrnambool and Traralgon.
"We know that green open space has a positive impact on people's lives," said Dr Penny Davidson, a social researcher with CSU's Institute for Land, Water and Society, who is also working with CSU psychologist Dr Dianne Boxall and ecologist Associate Professor Gary Luck.
"Our research goes a step further – we want to find out whether having a higher number of different plants and animals in your neighbourhood will have a positive effect on your wellbeing. It's possible that living in a more diverse local environment means that we understand it more, and feel more connected to it."
Dr Davidson said the questionnaire will take up to 20 minutes to complete and consists of mainly 'tick the box' questions about people's satisfaction with their neighbourhoods and the types of interactions they have with them.
Information from this research is expected to lead to improved residential planning, helping urban and regional planners to ensure that people gain the most satisfaction from living in their local neighbourhoods so people and the environment receive the most benefit.
The biodiversity in the selected neighbourhoods has already been measured as part of a previous research project by Professor Luck, which surveyed various bird, bat, amphibian and plant species in each of the 36 neighbourhoods during the four seasons of the year.