Research at Charles Sturt University (CSU) is examining the potential benefits of olive fruit and leaf compounds in the prevention and treatment of Alzheimer's disease.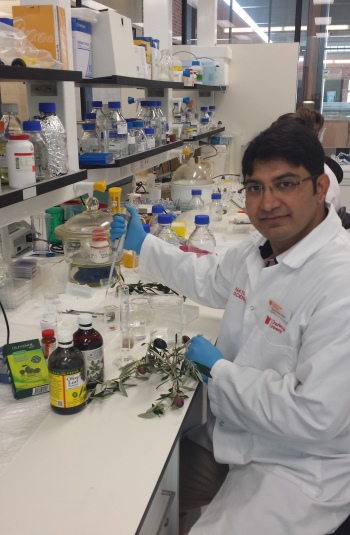 PhD student Mr Syed Haris Omar from CSU's School of Biomedical Sciences in Wagga Wagga is investigating if the olive compounds can help inhibit the processes thought to cause the early progression of Alzheimer's disease and memory loss.
More than 340,000 Australians are living with dementia and Alzheimer's disease is the most common form of dementia, accounting for up to 70 percent of all cases. The disease damages the brain, resulting in impaired memory, thinking and behaviour.
"The health benefits of a Mediterranean diet, of which olives are a major ingredient, are well recognised," said Mr Omar. "This prompted to me investigate if olive compounds may be an effective therapeutic agent in the prevention of Alzheimer's disease."
Mr Omar's in vitro or test tube experiments showed that the olive phenolic compounds (biophenols) inhibited the enzymes believed to be responsible for formation of amyloid beta plaques, one of the hallmarks of the Alzheimer's disease. In addition, cell line experiments also showed a reduction in amyloid beta induced cell toxicity.
The next phase of the research tested the compounds on mice that had been genetically modified to over-produce the amyloid beta plaque in their brains.
"A treatment group of the transgenic mice were fed the olive leaf extract and a control group was not," said Mr Omar.
"Observing the behaviour of the mice in a maze test, I was able to compare the learning memory function of the treated and un-treated groups. On the basis of some statistical performance, there was a no significant difference between the two groups in terms of memory improvement, while the treatment group of mice showed slight cognitive improvement."
However, examination of brain tissue from the mice showed those fed the olive compounds had significantly less amyloid beta plaque loads than the mice which were not treated.
"Even though these results are promising and give the future research direction, we still have much to learn about the enzyme modifying activities of olive biophenols and the progression of Alzheimer's disease," he said.
Mr Omar is also member of the Graham Centre for Agricultural Innovation. His PhD is titled "Pharmacology of Olive Biophenols in Alzheimer's disease prevention and treatment." This work is supervised by Dr Hassan Obied, Dr Chris Scott and Dr Adam Hamlin.
For more information about Alzheimer's disease contact the National Dementia Helpline 1800 100 500 or Alzheimer's Australia.