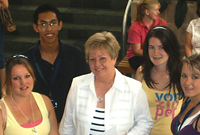 Nursing students currently enrolled in their second and third years at Charles Sturt University (CSU) in Orange have been reassured that their on campus lectures will continue and they will not be disadvantaged by changes to the way in which courses will be provided to students in the future.
"The University, the Dean of the
Faculty of Science
, Professor Nick Klomp, and I as Head of School, stand by the undertaking made at the end of 2009 to guarantee that the second and third-year nursing students enrolled in the
Bachelor of Nursing
in Orange would continue to have internal classes in 2010," Professor Duffy said.
"I explained to the students that the University was simply ceasing new internal enrolments from 2010, as it moved to a new system for course delivery, and that a regrettable internal breakdown of communication had happened during my recent absence overseas which resulted in the failure to provide lectures that the students expected on the first day of the new academic year.
"While any confusion, anxiety, and inconvenience to these current second and third-year nursing students is regrettable, this incident affected only a handful of Charles Sturt University's more than 8,000 internal full-time students, and the University is doing everything to ensure the smooth passage of their studies.
"We will also endeavour to ensure that any changes to courses in the future are fully communicated to all relevant staff and students in a timely and comprehensive manner," Professor Duffy said.