Charles Sturt University (CSU) and Murrumbidgee Local Health District (MLHD) have formed a ground-breaking partnership linking post-graduate distance education and health services.

The partnership enables students in the Master of Health Services Management to work with MLHD on a project to research the changes in private health insurance coverage and usage in the public sector in rural areas. It was announced today by Executive Dean of the University's Faculty of Science Professor Tim Wess and MLHD Acting Chief Executive Jill Ludford.
The student team members, who have never met face-to-face, will work collaboratively using CSU's online learning systems.
Professor Wess said CSU has developed online learning in health services management to allow students already working as health care professionals to work with real problems identified in their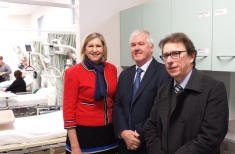 workplaces.
The students have already independently completed eight subjects in the Master of Health Services Management.
"The project extends this learning by enabling students to work as a team on a complex real-world problem," Professor Wess said.
MLHD identified several potential projects which were presented to the CSU student team.
The students rated the projects in order of interest and developed an expression of interest presented to MLHD.
"The students were expected to represent themselves as management consultants and to identify the expertise, skills and knowledge they brought to the project, and to negotiate a timeline of milestones," Professor Wess said.
"It is unlikely any of the participants will meet face-to-face while the project is underway, but will instead meet by video and telephone conferencing.
"Both the students and MLHD staff will develop an understanding of how technology might be better used to enhance the management of health services."
Ms Ludford welcomed the partnership and said the project will provide MLHD with practical and valuable information, and has the potential to inform planning and policy at a broader level across the health system.
"This is an innovative partnership which will lead to real outcomes to improve healthcare in the local region," she said.
Professor Wess said he hoped the partnership would lead to an ongoing relationship between CSU and MLHD, and assist the University in developing relationships with other health organisations.
The pilot study is the culmination of several years planning and builds on a Teaching Fellowship awarded to Dr David Ritchie by the CSU Flexible Learning Institute.