'Find your passion' is the simple advice for pharmacy students at Charles Sturt University (CSU) from the national winner of the 2014 Pharmacy of the Year competition.
The Pharmacy Guild of Australia recently named Charnwood Capital Chemist in the ACT, owned by CSU graduate Ms Samantha Kourtis, as 2014 Pharmacy of the Year.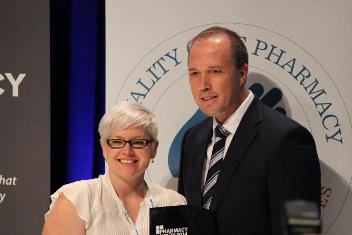 Ms Kourtis, who graduated from CSU in 2003, also won the Innovation in Professional Services category at the Guild's national conference, APP2014 on the Gold Coast.
Ms Kourtis said, "The best pharmacists I have worked with are driven by their passion and commitment to healthcare. My advice for pharmacy students and those considering studying pharmacy, is find where your passion lies and run with it.
"Students should get as much experience and exposure to innovation and excellence in pharmacy as they can. Do placements in rural areas, work the late shifts, and find pharmacies doing something different.
"When I finished my degree at CSU in 2003, I had no problem finding an internship and I found out later that my workplace preferentially looked for interns from Charles Sturt University.
"Now that I have pharmacy students on placement and interns looking for work I can fully appreciate how well rounded my Charles Sturt University degree was. I studied an earlier degree at another university and in comparison felt CSU prepared me for the workplace with the tools I required to continue to develop my skills."
The Guild's Pharmacy of the Year competition is sponsored by the Quality Care Pharmacy Program (QCPP).
Judges described Ms Kourtis' pharmacy as a 'clear example of how a dynamic pharmacist, with good local relationships can provide an excellent service'.
She was particularly praised for her work with local health services and health professionals in the area of compression garments and wound dressing.
Another CSU graduate, Mr Jason Harvey, was also recognised in the national competition with his pharmacy C.P Peoples Chemist, part of the Outback Pharmacy Group in Broken Hill, taking out the Excellence in Community Engagement category.
Mr Harvey graduated from CSU with a Bachelor of Pharmacy in 2002.
Ms Kourtis said the pharmacy industry provided opportunities to grow and develop skills in specialised areas of healthcare.
"We can link up with other healthcare providers in our community and be known for our commitment and ability to offer solutions in those areas," she said.
"Pharmacists delivering healthcare with a focus on outcomes, not price, need to make sure, more than ever, that they are doing it well. Every customer through the door needs to get the best of us every time."
As the first non-metropolitan program in Australia, CSU introduced its pharmacy program in 1997 It now offers its degree through the School of Biomedical Sciences in Orange and Wagga Wagga.