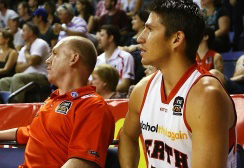 The Perth Wildcats basketball team is the most successful franchise in the history of Australia's National Basketball League (NBL) and part of its recent success is related to a Charles Sturt University (CSU) sport science academic.
In his role as sport scientist to the
Perth Wildcats
, Dr Stephen Bird, a senior lecturer at the CSU
School of Human Movement Studies
in Bathurst, applies scientific principles and techniques with the aim of improving athletic performance.
"I work in conjunction with Mr Will Markwick, head strength and conditioning coach, and my main role is fatigue monitoring and recovery management," Dr Bird said.
"The Perth Wildcats are one of the most travelled teams of any sport in the world, and I contribute to maximising their performance by providing a range of services which include athlete education presentations; hydration testing; travel hydration plans; nutritional supplementation plans; post-game recovery nutrition; sleep assessment and sleep hygiene plans; neuromuscular fatigue monitoring; recovery management checklist; peak power profiling; and summary reports and recommendations."
Head coach of the Perth Wildcats, Mr Rob Beveridge, has acknowledged Dr Bird's expertise and knowledge significantly contributed to the Perth Wildcats being one of the best prepared teams in the league. Perth Wildcats player and 2012 NBL Most Valuable Player, Mr
Kevin Lisch
, said, "Dr Bird provided us with valuable information about our bodies and how they can better be managed. I believe that his presentations, specifically on recovery, nutrition, and individualised fatigue and strength monitoring, allowed me to continue feeling physically fresh throughout the gruelling season and travel schedule. His guidance allowed me to better understand my body and kept me healthy throughout the season."
Dr Bird spends about a week each month in Perth advising the team, and is the lead investigator in a collaborative research project (between the CSU School of Human Movement Studies, Edith Cowan University, the University of Western Australia and the Perth Wildcats) titled, Monitoring fatigue and recovery in professional basketball players. Several studies are in the final stages of completion.
Recently, Dr Bird and the Western Region Academy of Sport (WRAS) in Bathurst also received the
2012/13 Strength of America Award
for excellence in delivery of strength and conditioning programs to high school athletes for the CSU-WRAS Strength and Conditioning Internship Program he oversees. Significantly, this is the only program outside the US to receive this
recognition
.
Dr Bird
has also conducted sport science and performance research for National Rugby League football teams the Wests Tigers, Melbourne Storm and the Penrith Panthers, as well as the Women's National Basketball League team the West Coast Waves.