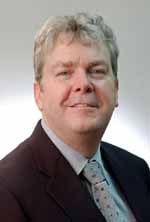 The proposed NSW legislation to protect paramedics (ambulance officers) from assaults is an important and symbolic action by the State government but it should not be the only protective intervention, according to a visiting Fulbright Scholar at Charles Sturt University (CSU).
Dr Brian Maguire, a Senior Fulbright Scholar and an Associate Professor at the University of Maryland in Baltimore County, USA, has been in Australia since January conducting an international research project on the occupational risks of paramedics in ambulance services in Australia. One of the chief organisations he is working with is the
School of Biomedical Sciences
at CSU in Bathurst.
"As recent media stories show, the NSW Ambulance Service faces an increase in occupational injuries from assaults, as well rising concerns about paramedic stress and suicides," Dr Maguire said.
"We know that paramedics in Australia have the sixth highest rate of occupational injury, yet little is known about the causes of these risks, or how the risks vary by gender, age and job title. These underlying questions must be answered before interventions, such as agency policies and training for personnel, can be developed, tested and implemented."
Before he began his academic career, Dr Maguire served as a paramedic in New York City for 20 years, and although he was never personally assaulted in that time, he often witnessed violence and its consequences. His subsequent groundbreaking research in the United States was the first to show that ambulance personnel in that country have an occupational fatality rate and a non-fatal injury rate that is far above the national average and is comparable to the rates for police and firefighters.
Dr Maguire observed, "There is a lot of energy in Australian ambulance services, with a number of positive initiatives evolving to enhance the already high standards of professional practice and service delivery.
"In Australia, ambulance services seem to successfully retain their staff longer than their US counterparts where there is a higher turnover of personnel. I've been surprised to encounter paramedics in Australia who have been in the job for 20 to 30 years, whereas in the US the average paramedic career is more like 10 years," he said.
Dr Maguire's current research project is sponsored by the
Australian-American Fulbright Commission
, and he will speak about his research at a free public lecture at CSU in Bathurst on Wednesday 19 May in building S15 (Room 2.05).