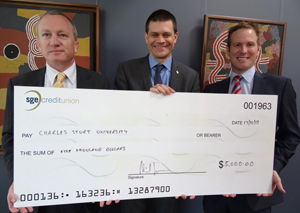 The health and wellbeing of staff and students at Charles Sturt University (CSU) has received a boost with sponsorship from SGE Credit Union for the annual 'Healthy You @ CSU' Expo in 2014.
CSU Vice-Chancellor and President, Professor Andrew Vann, welcomed and acknowledged SGE Credit Union's support when he recently received a cheque for $5 000 from chief operating officer Mr Michael Coburn, Bathurst business manager Mr Gary Goldsmith, and south-west NSW area manager Mr Michael Reid.
"Our aim is to have employee health and wellbeing understood, valued and actively supported at all levels of our organisation, and SGE's very generous sponsorship will advance this goal to enhance the wellbeing of our staff and students," Professor Vann said.
"It builds on our earlier initiatives to ensure all our staff have the necessary skills, tools and knowledge to improve their physical, psychological, financial, and spiritual health and wellbeing. I look forward to the University's continued engagement with SGE Credit Union, and the wider corporate sector."
Mr Mal Wilson, Director, Workplace Relations in the CSU Division of Human Resources, said the SGE sponsorship would contribute to the delivery of the Healthy You @ CSU - Wellness and Wellbeing Expo at five CSU campuses in March 2014.
"Charles Sturt University recognises the value of promoting wellness and wellbeing within the workplace, and the added benefits to the individual and their families of taking a proactive approach to improve their health outcomes," Mr Wilson said. "Investing in our employees' health and wellbeing is also essential for ongoing business success.
"The Expo will provide a range of information by many service providers, and practical demonstration sessions."
SGE's Mr Michael Coburn said, "SGE Credit Union has a long association supporting members in regional areas, including Bathurst and Wagga Wagga, and is proud to be the sponsor of the 2014 Wellness and Wellbeing Expo. SGE understands the importance of everyone's financial wellbeing as part of their overall happy and healthy lifestyle.
"My colleagues Gary Goldsmith (Bathurst) and Michael Reid (Wagga Wagga) have many years experience in their local communities helping people understand and achieve their financial goals, and are pleased to be part of next year's events," Mr Coburn said.
The 'Healthy You @ CSU' Expo will be held at five CSU campuses in March 2014; Albury-Wodonga on Monday 17; Wagga Wagga on Wednesday 19 and Thursday 20; Dubbo on Tuesday 25; Orange on Wednesday 26; and Bathurst on Thursday 27 and Friday 28 March.
CSU welcomes interest from organisations wishing to participate in the 2014 'Healthy You @ CSU' Expo. Anyone interested please contact the expo organiser at
healthyu@csu.edu.au