Charles Sturt University (CSU) aims to provide the highest quality in early childhood education and care in its proposed facility to be established at Thurgoona in 2012.
The start of the new building will be celebrated by CSU staff and project partners with the turning of the first sod at 5.30pm on Tuesday 8 March at the building site inside the main entrance of CSU on Elizabeth Mitchell Drive, Thugoona.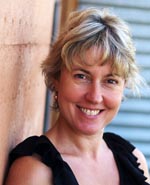 "We believe this facility will be a centre of early chilhdood excellence in collaboration with Woodstock Support, and be available for the children of University staff and students and community members," says Head of CSU's
Murray School of Education
, Associate Professor Louise Hard.
"With the move of the Murray Children's Centre from its existing Olive Street site in central Albury to Thurgoona, we have incorporated new services into the design of the building, which will be located near the entrance of
Charles Sturt University
."
As part of the Centre development, CSU is offering the service in conjunction with the Woodstock Support Early Childhood Intervention Service, which provides early intervention services to infants and young children who have development delays or disabilities.
Woodstock Support chief executive officer Mr Nigel Stone said the partnership with CSU enables the organisation to continue providing high quality education and therapy services to children with disabilies in the Border region.
"At the same time, the new centre will allow our families to have access to mainstream services, while increasing community education and awareness about children with disabilities, and their families," he said.
The proposed centre will also provide important learning opportunities for early childhood education students from CSU's Faculty of Education. as well as contributing to research undertaken by CSU staff and students which will ultimately provide long term benefits back to the community.
The new building, designed by NBRS + Partners, will have four wings to house areas for infants, toddlers, pre-schoolers and staff, with a common entrance and central multipurpose and dining area linked to the four wings.
New Head of Campus at CSU in Albury-Wodonga, Ms Sue Moloney, describes the design as a 'pinwheel' that "allows visitors to enter at one point and branch into four routes that entices visitors down the corridors with attractive vistas to outside areas.
"Curved walls between the wings add a sense of movement, variation and fun, with lounge areas allowing parents some privacy to watch, breastfeed or comfort children, or talk with other parents or staff.
"The central area is the focal point of the building, which allows children of all ages and abilities to share meals and expereinces with each other and their siblings."
The building design embraces the environmentally sustainable principles showcased throughout the campus, with features such as underfloor heating, solar-panelled roofing for air-conditioning offices, rain water collected for watering surrounding gardens, 'grey water' used for flushing toilets, and maximising areas of recycled glass to minimise artificial lighting.
"Children will interact with these features which will illustrate the simple use of the ecologically sustainable development that surrounds them," Ms Moloney said.