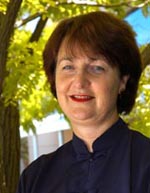 Pioneering health professional, clinical educator and academic Associate Professor Lindy Mcallister has been recognised by the Speech Pathology Australia with life membership for her services to the speech pathology profession in Australia.
Now with Charles Sturt University's School of Community Health, Professor Mcallister has championed the need for speech pathology services in rural and remote areas for over 30 years, since starting out as the first speech pathologist to practise in Far North Queensland.
"I have come to appreciate the special needs and talents of speech pathologists who come to work in regional and remote areas, often as their first professional appointment. They need to be well educated, highly skilled, good at team work and very independent. However, they also need good workplace supervision and mentoring to support them in these challenging positions, but these are often lacking "
Professor Mcallister maintained her pioneering spirit to set up the first speech pathology degree outside metropolitan Australia - at Charles Sturt University in 1998.
See more
"Those were exciting days, establishing a course from scratch. We wanted a course that provided professional speech pathologists who could hit the ground running in practices mainly based in regional Australia. We had to work closely with the speech pathology profession as well as accreditation bodies to ensure our graduates met the needs of the profession and the nation's regional communities."
The former national president of Speech Pathology Australia thinks CSU is succeeding. "Our graduates are now dispersed throughout Australia, from Melbourne to Moree, Katherine to the Kimberleys. Graduates of this program are highly sought after employees in all settings, from big metropolitan hospitals to small rural health centres to tiny Aboriginal communities. We are making a big impact on helping address the shortages of health professionals in regional Australia," she said.
Professor Mcallister has also continued her professional and academic interests in providing speech pathology services in different cultural settings with a project to support the Phu My orphanage for young Vietnamese children, many with severe disabilities, in Ho Chi Minh City, Vietnam.
See more
"Each year, up to 12 speech pathology, occupational therapy and physiotherapy students from CSU and three CSU staff spend up to six weeks with the children and staff of Phu My, teaching local staff to help children eat, speak, communicate and live more fulfilling lives.
"Concurrently, the students' time at Phu My is recognised as part of their clinical experience requirements for their degree, so all parties gain from the experience."
Prior to joining CSU Professor Mcallister spent 13 years at the universities of Queensland and Sydney as clinical coordinator for their speech pathology courses. It is from her career work as an educator and practitioner that she is a leading advocate for the importance of practical clinical experience for future speech pathologists.
Professor Mcallister now supervises postgraduate research students at Charles Sturt University while continuing her own research into ethics, clinical education, tele-health, intercultural practice and issues for speech pathologists working in regional areas.
She received her award from Speech Pathology Australia during its national conference in Perth on 25 May 2006. She is one of only 14 life members in Australia.