The health issues facing rural communities in India will be experienced by more than a dozen allied health students from Charles Sturt University (CSU) during international clinical placements in December.
The fortnight-long placements by 14 pharmacy, medical science and forensic biotechnology students will be held in clinics, hospitals and during field trips in smaller regional centres between the Indian cities of Mumbai and Pune.
The students will observe HIV/AIDS intervention programs for migrant workers, fishermen, truck drivers and students; shadow hospital staff who provide health care for disadvantaged patients; and visit a leprosy hospital.
"This is a very comprehensive program which will give students real insights into rural health care in India and some very beneficial cross cultural experiences within the health system," said
CSU Global
Manager Ms Alex Elibank-Murray, who will accompany the student group to India.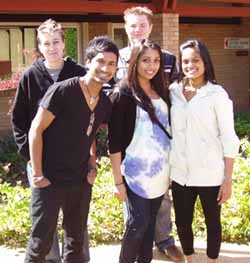 The 14 students are from the
School of Biomedical Sciences
at CSU at Orange and Wagga Wagga as well as students from Adelaide and Cairns who are studying by Distance Education.
"I am participating in the program because I have never been overseas and I thought it would be valuable to my studies to see a different culture and how they work with limited resources," said Ms Sandy Glenday, a Bachelor of Medical Science student from Adelaide.
Another distance education student is Ms Sharon Dudley, a pathology technician from Cairns.
"When I first heard of the program, I dismissed it due to my multiple work, family and study commitments but I changed my mind when I heard the itinerary," said the Bachelor of Medical Science student.
"I see parallels with Indigenous health care in Australia and the health care offered by developing countries including issues such as access to health, health education and cultural barriers. This program offers an opportunity to see firsthand the health and medical needs of rural communities in a developing country with diseases little seen in western society," said Ms Dudley.
Ahead of their departure for India from Sydney on Saturday 28 November, the students have been collecting local donations of valuable medical supplies including gloves, masks, gowns, bandages, mosquito repellents, alcohol swabs and thermometers. The donations will be delivered to the non-government organisations and clinics in India.
I feel very passionate about rural and remote health in Australia and medicine in developing countries, which is why I want to participate in the India rural and public health rotation," said Bachelor of Clinical Science student Ms Cassanne Eccleston from Canowindra in central west NSW, who is spearheading the collection.
"I have so far gathered around $200 worth of medical supplies and anyone interested in making donations can leave the goods at the local pharmacy in Canowindra," said the second year student.
The trip to India is being organised by
CSU Global
- a program established by the University's
Office of International Relations
in 2009 to increase undergraduate student participation in international experiences from 0.6 per cent in 2006 to 10 per cent by 2011.
The range of opportunities for international experience through CSU Global include; Student Exchange Programs where students can study part of their degree overseas at one of 30 partner institutions worldwide; Faculty-led short-term programs involving a variety of overseas study tours and programs; external provider short-term programs; overseas practicum or internships; volunteering; and GAP programs.
CSU Global is also able to provide students with access to financial assistance such as generous scholarships and grants to enable them to undertake overseas programs," said Ms Elibank-Murray.