Breast cancer survivors are being sought to participate in a Charles Sturt University (CSU) research project aimed at improving the quality of life particularly for women in rural and regional Australia.
The study, led by Dr Janelle Wheat from the
School of Dentistry and Health Sciences
at CSU in Wagga Wagga, aims to establish the effectiveness of natural medicine products in treating the condition lymphoedema, which occurs when the lymphatic system does not work properly.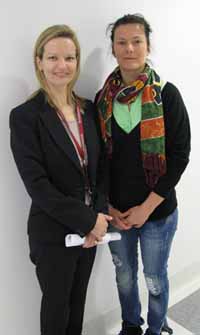 "With figures showing 39 per cent of breast cancer survivors develop lymphoedema, it represents a significant health problem for women who have had breast cancer," said Dr Wheat. "This is a particular concern for women in rural and regional Australia who may be geographically isolated and have limited access to specialised care.
"Treatment options for lymphoedema are largely limited so research that may provide a safe, natural alternative, accessible by all, is important. We want to establish whether herbal medicines might offer women some relief from lymphoedema regardless of where they live.
"The project needs the support of volunteers who have completed their breast cancer treatment - including surgery, chemotherapy or radiotherapy - within the last 20 years," said Dr Wheat. "This includes all breast cancer survivors and not just the women who have developed lymphoedema."
The women recruited into the trial will be provided with a year's treatment and follow up using bioimpedence, a well established, painless and non-invasive method of measuring lymphatic flow.
Dr Wheat said, "The herbs are very safe and, in a pilot study in 2008, were found to improve lymphatic drainage".
The volunteers will be assessed every three months at CSU in Wagga Wagga. During a 15 minute appointment, they will be asked to answer a questionnaire and undergo a bioimpedance analysis.
The project, Preventing and improving lymphoedema in breast cancer survivors: a randomised controlled trial is funded by a CSU Competitive Research Grant. MediHerb have supplied the herbs. Assisting in the project is PhD student, Ms Marta Siekierska.
Volunteers interested in the study can contact Dr Wheat on 02 6933 2750 or send an
email
.