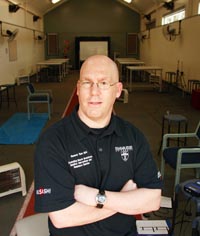 A human movement expert at Charles Sturt University (CSU) and the Western Region Academy of Sport (WRAS) have been honoured with a prestigious international award for strength and conditioning training provided to teenage athletes.
"This is a significant achievement as Charles Sturt University and the
Western Region Academy of Sport
are only one of nine institutions to receive the award in 2011, and we are the first international institution and the only Australian 'school' to receive this award, which recognises excellence in delivery of strength and conditioning programs to high school athletes," said Dr Bird.
Dr Bird
is the supervisor of the SCI program that received the Strength of America Award. The award recognises high schools, and related institutions, that achieve the gold standard in strength and conditioning programs by demonstrating excellence in their school's athletic supervision, education, programs, and facilities.
The WRAS SCI Program is a joint initiative between the School of Human Movement Studies CSU in Bathurst and the WRAS, which is also based at CSU in Bathurst. The program offers students at the School of Human Movement Studies the opportunity of a 12-month placement in the program to provide scientific knowledge and programming expertise about strength and conditioning. The interns provide individualised strength and conditioning programs for WRAS squad athletes to enable athletes to train systematically and safely to improve sports performance and reduce the risk of injury. Completion of the WRAS SCI Program provides successful candidates with proficiency skills and knowledge required as early career strength and conditioning professionals.