* US scholarship allows CSU researcher to complete world-class research in deaf education
* Fulbright program promotes scholarship and cultural understanding worldwide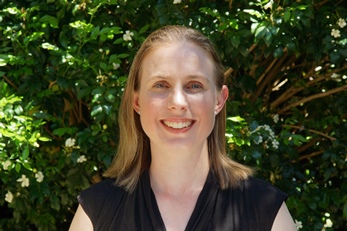 A Charles Sturt University (CSU) researcher has taken her research into deafness and communication to new heights through the Fulbright Scholarship program.
The Fulbright program is designed to promote scholarship between the USA and other countries around the world while cultivating cultural understanding and fostering goodwill for future generations.
Dr Kathryn Crowe (pictured) studied and researched at the CSU School of Teacher Education until 2016 when she received her Fulbright Scholarship.
"In my work as a speech pathologist, educator, and interpreter, my focus has always been on levelling the playing field for those who communicate differently," Dr Crowe said.
"My award provided a great opportunity to continue this work in a different way."
Dr Crowe, who specialises in the communication and education of children with hearing loss, hoped to translate research into practice to provide the best educational opportunities and outcomes for learners with hearing loss of all ages.
To realise her dream, Dr Crowe has worked for the past two years at the National Technical Institute for the Deaf, at the Rochester Institute of Technology (RIT) in New York, USA.
"I well knew the groundbreaking work of Professor Marc Marschark (Director of the Center for Education Research Partnerships at RIT), and had long dreamt of working with him and benefitting from his expertise," said Dr Crowe, who continues her association with CSU as an Adjunct Research Fellow.
"Professor Marschak suggested I apply for a Fulbright Postdoctoral Scholarship, which was how my dream became reality," Dr Crowe said.
RIT has a long history of providing tertiary education for deaf and hard-of-hearing learners, with 10 per cent of its 19,000 students having a hearing loss.
"This is the perfect place for my research examining the vocabulary skills of deaf students, as well as working on other ground-breaking research with colleagues at RIT," Dr Crowe said.
The Fulbright scholarship initially allowed Dr Crowe to work at RIT for ten months, and she was offered an additional year of employment by RIT to continue her work.
"I have gained so much from being a Fulbright Scholar," Dr Crowe said. "I could not have completed my research so well anywhere else in the world, and I have learned so much by being immersed in this rich research environment and Deaf culture.
"In sharing my experiences as an Australian and listening to the diverse stories of so many people, I feel I have surpassed the program's aim of encouraging cultural understanding and goodwill," Dr Crowe concluded.
Dr Crowe will complete her time with RIT in May 2018, and will return to Australia before exploring new opportunities in Europe.