An early career researcher with Charles Sturt University (CSU) has been recognised for her innovative work with children that have speech difficulties and their families by the Australian Research Management Society (ARMS) and Elsevier, a leading international scholarly publishing group.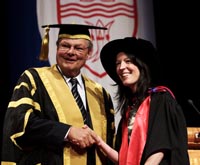 Dr Jane McCormack, a lecturer with CSU's School of Community Health, has been named top young researcher in humanities and social sciences in the national 2011 Scopus Young Research Awards.
Dr McCormack was driven to research in this area following her clinical work with young children with communication difficulties and their families.
"Speech impairment in early childhood can lead to social and academic difficulties when children are at school," Dr McCormack said.
"I looked beyond the difficulties children have with producing sounds and words to investigate the impact of speech impairment on their lives. My studies highlighted that speech impairment can affect a child's whole life, as well as their families," says Dr McCormack.
Her work investigated how childhood speech impairment can limit life activities and gathered the experiences of children and their parents to describe how children with speech impairment communicate, relate to others and handle stress, as well as how they progress at school.
"I hope that policymakers, speech-language pathologists and educators can use this work to provide direction for timely and holistic intervention services for individuals with speech impairment, and their families," Dr McCormack said.
Dr McCormack is a prolific writer, publishing 12 academic papers and four book chapters in the past four years. She received her doctorate from CSU in April 2011.
Dr McCormack was judged the top young researcher on the basis of the number of papers she produced, their impact in the academic community in Australia and overseas, and her contribution to research into speech pathology and early childhood education.
Her work has previously been hailed, winning the outstanding PhD thesis award from CSU's Faculty of Education for 2011, the national Sir Robert Menzies Scholarship for Research in Allied Health Sciences in 2009, and various academic awards from CSU during her studies. Her work also received acclaim from leading international researchers in USA and UK.