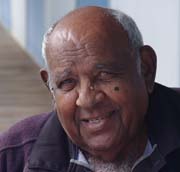 An Aboriginal Elder with decades of experience working to improve education and social justice for Indigenous Australians has been appointed as the inaugural Elder-In-Residence at the Charles Sturt University (CSU) Centre for Indigenous Studies in Dubbo.
CSU Deputy Vice-Chancellor (Academic), Professor Garry Marchant, announced that Mr Ray Peckham – known as Uncle Ray – is the first Indigenous Elder to be invited to hold the Elder-In-Residence role at the University.
"Mr Peckham brings proven dedication and valuable experience to this important new role, and I congratulate and welcome him to the University," Professor Marchant said.
"He has worked to improve Indigenous conditions and opportunities since the early 1950s when he moved from Dubbo to Sydney and joined Aunty Pearl Gibbs to help re-form the Aborigines Progress Association started by Mr William Ferguson in Dubbo in 1937.
"As Elder-In-Residence, Mr Peckham will help guide Charles Sturt University to achieve its commitment to increase the number of Indigenous students at the University, as well as build its profile on Indigenous research, teaching and learning for all our students."
Mr Peckham said, "I am very pleased to hold this position at Charles Sturt University as it results from many years of work by me and many others to ensure equal opportunities for Indigenous people."
"In this role I promote Charles Sturt University as an institution where our culture and protocols are respected and our people can continue their learning journey to share knowledge with all people. I offer knowledge, mentoring and support to those in need of assistance, and uphold and share our culture and spirituality for the betterment of our people.
"I act as an adviser to the Charles Sturt University, and welcome and liaise with Indigenous and non-Indigenous students and staff. I also attend meetings and events, and travel to various campuses of the University and other institutions as required."
The Elder-In-Residence position is one of 36 recommendations outlined in CSU's Indigenous Education Strategy as part of the University's commitment to improving Indigenous education outcomes. The role highlights the valuable contribution of Elders to the learning environment and actively encourages the involvement of Indigenous people in the operation, governance and community of the University.
The
Centre for Indigenous Studies
is an academic school within CSU's
Faculty of Education
, and is located in Dubbo, situated within the western slopes and plains region of NSW. The Centre is actively engaged with the local Aboriginal community and with Indigenous Nation groups across the geographical footprint of the University.