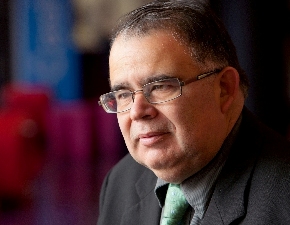 There is a case for guaranteed Indigenous parliamentary representation argues a Charles Sturt University (CSU) academic in an article in The Conversation today.
Associate Professor of political science in the CSU School of Humanities and Social Sciences Dominic O'Sullivan (pictured) is responding to the idea raised by the Greens Party member, Ms Dawn Walker, in her inaugural speech to the NSW Legislative Council earlier this month.
"Ms Walker's proposal is not a new one," Professor O'Sullivan said. "It was considered and rejected by the Carr government in 1988.
"However, it is timely to reconsider the idea, given the level of policy failure that continues in Indigenous affairs across Australia."
Professor O'Sullivan cited various governments' failures to 'close the gaps', and the mining lobby's challenge to native title agreements, as examples of why guaranteed Indigenous voices in parliament are important for fair and informed policy making.
"Guaranteed Maori representation has worked well for New Zealand parliaments since 1867 and is a model that could be considered for New South Wales, as Ms Walker proposes," Professor O'Sullivan said.
"Australia's democracy is not presently well equipped to consider the implications of prior occupancy, culture, or colonial legacy. Democratic structure determines whether public decisions are the outcome of an inclusive political process."
Professor O'Sullivan's article in The Conversation draws on research for his forthcoming book Indigeneity: a politics of potential – Australia, Fiji and New Zealand to be published by Policy Press in June.
Read the full article in The Conversation here.