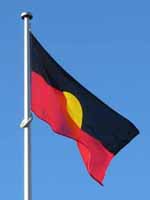 Indigenous students studying management by distance education at Charles Sturt University (CSU) are in Bathurst this week for a residential school and the presentation of awards on Wednesday 13 November.
Dr Calvin Wang, course director in the
Faculty of Business
, said this will be the last residential school for these students in 2013.
"Many are aged in their 40s and 50s, and hold senior positions in a range of Indigenous, government and non-government organisations in NSW and NT."
Apart from attending on-campus lectures, the students will attend a special luncheon on Wednesday 13 November for the presentation of awards.
"Top students will receive Certificates of Achievement," Dr Wang said. "This is to acknowledge their academic accomplishments, and to recognise their considerable commitment to tertiary studies. All have signed up to a part-time four year program and have to fit this in with full-time employment, family, and community commitments. They are great role models not only for Indigenous young people but also mature-aged people hoping to advance careers or wanting to complete higher studies for aspirational reasons."
"This residential school and the awards luncheon also coincide with the Darrambal Program run by the University's Indigenous Student Services (ISS) on campus this week. The program provides a pathway for young Indigenous students hoping to start at Charles Sturt University in the future."
The Indigenous business students are at CSU in Bathurst from Monday 11 to Thursday 14 November. The awards luncheon is at 12.30pm Wednesday 13 November in the student dining hall (building C5).