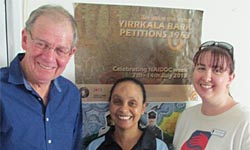 A program led by Charles Sturt University (CSU) is making inroads into mathematics education in the isolated and ancient Pilbara region of Western Australia.
Introduced into the region in 2014, the Let's Count program builds knowledge and skills in early childhood educators to help them work with parents so that they can assist their children aged three to five years to explore and understand early numeracy skills.
The program was developed by mathematics education researcher Professor Bob Perry from CSU's Research Institute for Professional Practice, Learning and Education, Dr Ann Gervasoni from Australian Catholic University, and The Smith Family.
"Let's Count helps parents to support their child's numeracy skills by noticing, exploring, playing and talking about numbers, counting, sorting and measuring in their daily lives," Professor Perry said.
"Children love challenges, and we can drive our children's learning by challenging them through everyday activities."
Professor Perry said Let's Count was a two-day professional learning program that has been introduced into 12 sites around Australia, including the Pilbara. The Smith Family is currently considering how the program can be made sustainable and introduced to communities across Australia.
"Let's Count is renewing the ways in which early childhood educators think about mathematics and how they engage with parents and children to help the parents understand how their children are learning," he said.
Professor Perry recently visited a number of childcare and family centres in Port Hedland and Karratha to see how the program was being used in this remote region of Australia.
While Let's Count was being used as it was planned in early childhood centres and with parents in the Pilbara, Professor Perry was astounded to see it being used in youth centres with older children. "The way Let's Count has been adapted by educators in youth centres is very pleasing and totally unexpected," he said.
"The program gets educators, parents and community organisations to work together to improve the numeracy of their children."
For further information about
Let's Count
, go to
The Smith Family website
. The project is sponsored by the Origin Foundation and was developed in conjunction with Blackrock Investment.