Charles Sturt University (CSU), in association with three Chinese educational institutions, has been successful in obtaining an Australian Leadership Awards – Fellowships for four leading Chinese academics to enhance their capacity in measuring environmental pollution and identifying appropriate pollution controls.
The $85 000 award will fund a research program that will use what is known as the Input-Output (I-O) technique, to identify the contributions of various sectors of the economy such as trade, industry, services and agriculture in polluting the environment and their appropriate design control measures.
The research will be led by Associate Professor Kishor Sharma from the
School of Business
at CSU in Wagga Wagga. Professor Sharma is an expert in international trade and developing economies. He has written six books as well as contributed to 50 book chapters and joint articles. Professor Sharma's most recent book,
Trade and Development in Transition: Kyrgyz Republic and Tajikistan
was published by NOVA Science in 2007.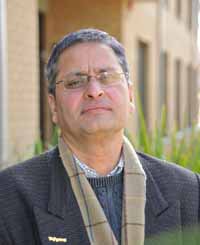 Professor Sharma will work on the project with four leading Chinese professors from the Changchun Taxation College, Yangzhou University and Tianjin University of Commerce in China.
"China's environmental standards are a serious concern to both national and international authorities and an improvement in its environmental record would be of global benefit," said Professor Sharma.
"What I want to develop is a new tool to measure how different sectors of the economy in China such as trade, industry, services and agriculture, contribute to environmental pollution.
"The implementation of the existing pollution control measure at a national level has the potential to not only undermine China's growth but also create social tensions within the large rural population who rely heavily on agriculture and do not pollute the environment as much as other sectors, namely the service sector or manufacturing.
"Pollution measures that take into account the contribution of each sector could make it more appealing for policy makers in China to implement the control measures in each region or province."
The four academics are due to visit CSU in Bathurst for two weeks from the middle of September and then Wagga Wagga for another month to undergo training to further develop research skills.
"The successful Fellowship also demonstrates Charles Sturt University is fulfilling one of its main aims to create new knowledge of international significance," Professor Sharma said.