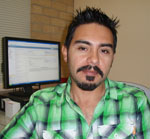 As United States-led coalition forces have launched attacks on Libya on the eighth anniversary (20 March) of the invasion and occupation of Iraq, a Charles Sturt University (CSU) academic cautions that the people of Libya, like the rest of the region, face many more challenges.
Dr Oliver Villar, a politics lecturer at the
School of Humanities and Social Sciences
at CSU in Bathurst, said, "If there are lessons to be drawn from Iraq, the present US-NATO military intervention in Libya will most probably only attempt to stabilise the country to ensure continued access to its vast oil reserves. For this to succeed, the aspirations of the Libyan people, like in Iraq, will take a backseat to the powerful Western interests leading US and Western policy in Libya."
US President Barack Obama has supported the idea of a 'no-fly zone' over Libya, and the UN Security Council has passed 'Resolution 1973' which it claims is necessary to prevent additional civilian casualties in Libya. The resolution's statement authorises 'all member-states acting nationally or through regional organisations or arrangements, to take all necessary measures'. US and British warships and submarines have begun firing cruise missiles at Libya's air defence systems and other targets in what is being called 'Operation Dawn', and French warplanes have also carried out air strikes.
The international community, however, seems deeply divided over the issue. The continued air strikes have been condemned by the Arab League as well as China, Russia, India and Latin American countries. They argue the raids have been "indiscriminate" and went further than the no-fly zone agreed by the United Nations and risk harming civilians. A Russian foreign ministry spokesman has called for a ceasefire, pointing to non-military targets having been hit including a medical centre, as well as 48 civilians killed, and more than 150 wounded. Germany has opposed the military option, exposing European Union divisions also.
"The 'military solution' proposed by the UN Security Council harks back to a time when President Obama's predecessor, President George W Bush, argued that it was necessary to invade Iraq and save the world from 'Weapons of Mass Destruction.' The deep divisions that the invasion of Iraq created within the international community have been exposed with the current Libyan crisis," Dr Villar said.
"'Regime change' was also considered to be important as it was argued that Saddam Hussein's removal from power would promote peace and democracy across the Arab world. Instead, we have seen a government in Iraq which most Iraqis view as corrupt and illegitimate as well as American power and its allies being challenged across the region.
"In Iraq, more than 104 000 people, including more than 92 000 civilians, have been killed since the invasion in 2003, according to US Army documents exposed by WikiLeaks. Iraq is now a country in tatters and ruled by a US 'puppet' regime. In solidarity with other protests across the region, the Iraqi people have been staging protests to demand real democracy and basic services.
"To the surprise of most observers since then, the US global 'War on Terrorism' has been seriously discredited as the way to understand political conflict in the Middle East. US-backed despots in the Middle East and North Africa currently fight for their survival against historic uprisings across the region. Some, like Libya's Colonel Muammar Gaddafi, have blamed the unrest on Al-Qaeda.
"Meanwhile, reports of massacres and torture by security forces in Bahrain, Yemen, and Egypt, raise serious concerns over what is happening in Libya right now. The United States has been largely silent about these crackdowns while the Obama administration has been trying hard to present itself as a 'multilateral partner' in the Libyan conflict. Iranian President, Mahmoud Ahmadinejad, has argued that while Iran supports the Libyan people, their struggle has been 'hijacked' by Western forces.
"The UN resolution follows a politically significant event earlier this month, when rebels captured six British agents trying to secretly enter Libya at night. Western involvement in Libya, it appears, has preceded 'Operation Dawn', and has attempted to either aid or support certain opposition forces.
"Whether or not Gaddafi's forces are defeated, the people of Libya, like the rest of the region face many more challenges ahead. As in Iraq, we must expect 'cheering crowds' for 'liberators' as different stages of the military operation take place. In the end, Libya's fate will ultimately depend on the will of its people, nothing else. As the eighth anniversary of the US-led invasion of Iraq passes, the West risks repeating costly mistakes while history in the region continues to unfold."