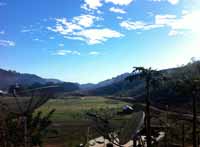 A journalism lecturer at Charles Sturt University (CSU) has been engaged to develop a communication strategy for a $25 million AusAid agricultural project in Timor-Leste.
Mr Chris McGillion, senior lecturer in journalism at the
School of Communication and Creative Industries
in Bathurst, said, "Charles Sturt University has signed a contract to devise a communication strategy for a project to increase food security in Timor-Leste by distributing higher yielding seeds in five basic crops, and encourage better harvesting and storage practices.
"While this is a relatively small role in a nationally-significant project, it is a new direction for the School and has some interesting elements. I'll be working on the strategy with a Timorese former journalism student of mine, Mr Francez Suni. It involves planning the strategy, conducting two workshops in Dili in November and March, redeveloping the website, evaluation and reporting."
Food security is a major priority for Timor-Leste, and Mr McGillion said the proposal evolved from discussions with the organisation
Seeds of Life
(SoL) about its communication needs to support the goal of improved food security in Timor-Leste through increased productivity of staple food crops; maize, rice, sweet potato, cassava and peanuts.
"The communication needs identified support the objective of establishing formal and informal seed production and distribution systems, while building the capacity of the Ministry of Agriculture and Fisheries (MAF) to manage and sustain the national seed system," Mr McGillion said.
"My role is to tailor a plan to promote awareness of the SoL program among key stakeholders, such as farmers and community leaders, and to support SoL and MAF staff to implement and support this pilot project in two districts, Ainaro, a mountainous inland western district, and Bacau, a lower elevation eastern coastal district. I will also evaluate the impact of the overall strategy to inform the longer-term communication needs of SoL."
Mr McGillion says the communications strategy will be based on the principles that the overall delivery of information needs to be highly effective but relatively low cost. It must also develop the communication skills of SoL and MAF staff, and it must respect the cultural sensitivities and moral integrity of target audiences. The activities will need to be designed with a view to addressing the disparities that exist between Dili and the districts regarding social development, educational levels, media infrastructure, and skills.
"For example, in Dili it is possible to reach key audiences using standard communication practices, such as press releases, news bulletins, and media interviews, websites, and social media," he said. "The same is true for audiences outside Timor-Leste. In the districts, however, the strategy will need to be geared more closely to cultural mores, community profiles, and the opportunities (audience reach) and challenges of local media, such as low-level content production skills. This suggests a district-specific approach that focuses on generating news in the form of village-level meetings, field days, school garden competitions, and the production and presentation of relevant personal narratives, and using this 'news' as the basis of public signage (posters) and current affairs and talk-back community radio programming."
Mr Allen Gavin, manager of VET Agreements at the CSU Office of the Dean of Studies, identified the potential for CSU involvement and helped to negotiate the communication strategy agreement. He said, "This agreement demonstrates the University's flexibility in responding to the needs of organisations doing important work, particularly in a new nation such as Timor-Leste."