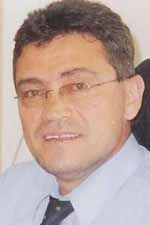 Charles Sturt University (CSU) expertise is being sought in the heart of Europe as a business academic has been appointed to expert advisory panels for the Republic of Slovenia and the European Union (EU).
In doing so he has also helped bring CSU closer to the process initiated by the
Bologna Declaration
to make higher education in Europe more compatible, competitive and attractive for Europeans and for students and scholars from other continents, including Australia.
Dr Hazbo Skoko, a lecturer at the University's School of Marketing and Management, was nominated to the panels by academics from EU countries that were part of the former Yugoslavia.
The expert panels, as fair and independent reviewers, will assess proposals by existing and newly established universities for the accreditation of new programs in economics and finance which will comply with the Bologna Declaration and relevant EU regulations.
Dr Skoko said that his work at CSU and its support has enabled him to be recognised and welcomed to a number of EU institutions and countries in the Balkan region.
"As a result of initiatives I commenced, CSU now has agreements for joint research, and student and staff exchanges with universities in Slovenia, Croatia, Montenegro, and Serbia," Dr Skoko said.
"As I come from the region, I have contacts with researchers and publishers in all of the ex-Yugoslavia countries and through them to researchers and scientists from other EU countries. These contacts resulted in me being made a member of the expert panel for a EU education program, based in Brussels, Belgium.
"Four years ago, I was involved in the implementation and communication of the Bologna Declaration at a few Balkan universities. Through this link, CSU has become involved in the process of the Bologna Declaration to enable CSU to attract students from the EU," Dr Skoko said.
Head of the CSU School of Marketing and Management, Associate Professor Grant O'Neill, said Dr Skoko's appointment reflects the high esteem in which he is held in Slovenia and across the Balkan region.