* Associate Professor Leonie Pihama from New Zealand will be visiting CSU
* Professor Pihama will be delivering a public lecture at CSU in Bathurst
* Topics will cover research methodologies, how research may support Indigenous self-determination, cultural values and trauma and family violence
Charles Sturt University (CSU) will this week host Visiting Scholar and leading human rights activist from New Zealand, Associate Professor Leonie Pihama (pictured) under the Faculty of Arts and Education Visiting Scholar's Scheme.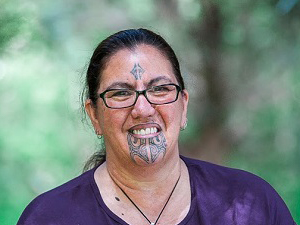 Professor Pihama who is the Director of Te Kotahi Research Institute at the University of Waikato, and Director of Māori and Indigenous Analysis Ltd, a Kaupapa Māori research company will deliver public lectures and community conversation circles at CSU in Bathurst.

CSU Faculty of Arts and Education Associate Professor and Project Lead, Susan Mlcek, said this trip is the second phase of three 'Indigenous Knowledges Stream' initiatives.

"This 'Indigenous Knowledge Stream' includes three of the world's foremost Indigenous scholars: Professor Cindy Blackstock [Canada]; Associate Professor Leonie Pihama [New Zealand] and Professor Linda Tuhiwai Smith [New Zealand]."

"The first phase of the 'Stream' was held last year and related to 'sustainable living through sustainable practice', which Professor Cindy Blackstock led."
"The second phase of the 'Stream' will be led by Associate Professor Leonie Pihama, this week, whose research strengths lie in community health, and equitable access to social services."

"And the final phase of the 'Stream' will be led by Professor Linda Tuhiwai Smith, whose research strengths lie in research methodologies, and especially as they relate to Indigenous communities."

Professor Mlcek said that each phase responds to the CSU Research Narrative of "sustainability; resilience of peoples, and flourishing communities through self-determining processes relating to equitable and participatory decision-making."
Associate Professor of political science Dominic O'Sullivan who has also been involved in the organisation of this trip, said that he has known Professor Pihama's work for many years and share research interests in Indigenous self-determination which is one of the critical priorities of the CSU Research Narrative.
"Professor Pihama is an expert in Kaupapa Māori research - a methodology developed by Māori researchers in New Zealand to ensure that research among Māori communities supports community needs and aspirations, it ensures that the community determines research questions."
"Other Indigenous communities and researchers around the world, including Australia, are interested in this philosophy and have adopted similar approaches in their own work."
"One of the reasons for Professor Pihama's visit is for an exchange of ideas on how research is done and how we can make sure that it benefits Indigenous people."
Professor O'Sullivan said this Thursday's public lecture to be held at CSU in Bathurst will be on the topic Historical Trauma, Māori and Healing -the Impact of Family Violence.
"This will be of interest to people in the field of family violence and healing. Leonie will consider relationships between historical trauma (colonisation) and violence." Professor O'Sullivan said.
Professor Pihama's next public lecture will be in Bathurst, Thursday 21 February from 4-5pm. The lecture will be held in the McDonough Building 1399 Room 107 (behind The Founders Cottage).