A leading Australian theologian and Charles Sturt University (CSU) academic has returned from Indonesia where he was recently honoured for his long and distinguished service to inter-faith harmony and understanding.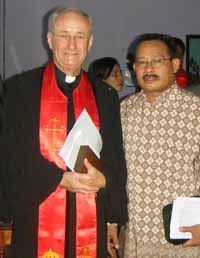 Professor Haire was honoured by the naming of the 'James Haire Research Centre', which was inaugurated on Thursday 26 January in association with the University of Halmahera (Universitas Halmahera), Indonesia. The work of the centre focuses on Christianity in relation to other religions and cultures. Professor Haire's name was acceptable to those of all faiths who are associated with the centre, and he had to legally agree to his name being used for this purpose.
On Saturday 28 January at the commencement service for the academic year at the University of Halmahera, Professor Haire was presented with a certificate by the Chancellor of the University, appointing him as 'professor for life'.
These tributes coincided with the 40th anniversary of Professor Haire's ordination in Halmahera as a Minister of the Presbyterian Church of Ireland and of the Church of Halmahera, Indonesia. This anniversary was acknowledged by a service and dinner attended by hundreds of people. Seven choirs took part in the celebration which included traditional dance performances.
"The naming of the research centre after me came as a beautiful surprise," Reverend Professor Haire said. "I am very pleased that community relations have improved so much since the violence between Christians and Muslims in the Molucca Islands in 2000, and that the whole community appears to be prospering so well."
From 1972 to 1985, Professor Haire served as Minister and theological lecturer and professor in Halmahera, as a missionary and Minister of the Presbyterian Church in Ireland, and a Minister of the Evangelical Christian Church in Halmahera, Indonesia. Since then he has been a visiting lecturer and professor at the Theological College of the Gereja Masehi Injili Halmahera (GMIH - Indonesian church) and the University of Halmahera, and visiting professor in the postgraduate programme of the Christian University of Indonesia at Tomohon, Sulawesi. Professor Haire was appointed a Presidential Friend of Indonesia in 2010.