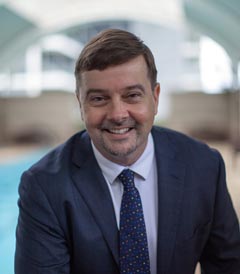 An expert in intelligence and security studies at Charles Sturt University (CSU) believes nations should invest more in developing their heads of intelligence.
Associate Professor Patrick Walsh with CSU's Australian Graduate School of Policing and Security said, "Since the terror attacks of 9/11, we have invested incredible amounts of time and energy in investigating how to make our intelligence analysts and systems better.
"However, I believe liberal democratic governments have not done enough to develop future senior managers and heads of their intelligence agencies or to get the governance of their intelligence agencies right," Professor Walsh said.
Professor Walsh presented his views on intelligence leadership at the 57th annual convention of the International Studies Association at Atlanta, Georgia.
"As both the security and political environments become more complex for intelligence agencies, agency leaders need to become more effective in interpreting and making decisions within these complex situations," Professor Walsh said.
"Threats to global peace include state based conflicts such as in Ukraine and the South China Sea, threats from terrorists groups such as Islamic State and so-called 'lone wolf' attacks in Western countries, and boarder issues such as illegal immigration, arms trading, piracy and disease epidemics, all of which add to the complexities facing national intelligence agencies.
"Many non-state threat actors such as terrorists use social media and the internet for recruiting and planning, and so intelligence agencies face challenges in providing adequate warning of impending dangers and improving the impact of policy makers' decisions at times of crisis.
"We need to develop intelligence leaders who can navigate these turbulent waters and reduce major intelligence failures in the future," Professor Walsh said.
The former intelligence analyst also recognised the impact of the political and security environment on intelligence leaders. For example, he highlighted the politicisation of intelligence reports which affects the ability of intelligence agencies to provide fair and frank information to political leaders as has happened particularly in the US since the 9/11 attacks in 2001.
"We need to improve the governance of our intelligence agencies and communities as the world's security environment becomes more complex," Professor Walsh said.
"Intelligence leaders need to have strategic vision, be able to respond effectively in different environments, and develop flexible organisational structures and culture to deal with this complexity."
"In addition to leaders, intelligence organisations need both adaptable structures and functions to effectively address a nation's security concerns," Professor Walsh said.