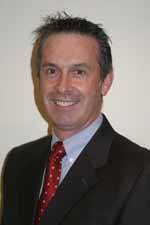 What does an ancient Chinese proverb about 'teaching a man to fish' have to do with war-ravaged modern-day Iraq? The link is clear to a Charles Sturt University (CSU) student who will graduate at the
Faculty of Arts
graduation ceremony in Bathurst on Friday 7 May after studying post-war reconstruction efforts in Iraq.
"Give a man a fish and you feed him for a day.
Teach a man to fish and you feed him for a lifetime."
Mr Young's research project examined Post-war reconstruction in Iraq from the perspective of emergency services by asking, 'Do contemporary Western models of emergency services apply to developing, war-torn nations?' It critically analysed the post-war reconstruction of the Iraqi Civil Defence Directorate (ICDD), and reflected upon his involvement in trying to teach the ICDD commanders 'how to fish'.
"Civil defence, or emergency service organisations as we know them in the West, is critical to the social well-being and security of a nation. This point was recognised by the Allied 'coalition of the willing' during 2003 and 2004, but it has seemingly slipped in importance," Mr Young said.
"Leading up to the 2003 invasion of Iraq, the Iraqi civil defence capability was in a 13-year period of decline. The war and subsequent lawlessness that occurred further decimated its capacity to add to the country's public safety and civil defence.
"My study benchmarked the practices undertaken since 2003 against contemporary emergency management thinking and practices, and my findings indicate that the outcomes might have been different had contemporary practices been applied.
"Like much of the post-war reconstruction of Iraq, the reconstruction of the ICDD was more about publicly 'feeding the man fish', wherein large corporations profited by repairing, renovating or building civil defence infrastructure, or dumping high-tech and unsuitable equipment and vehicles, rather than 'teaching the man how to fish'," he said.
Mr Young's research was recently published in
Alert
, the international Institute of Civil Protection and Emergency Management journal.