An international scientific collaboration led by Charles Sturt University's (CSU) Professor Geoff Gurr has found flowers around rice crops can have a dramatic impact on pest control.
Loading...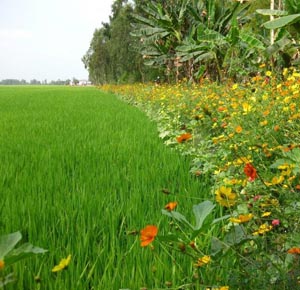 Professor Gurr said that nectar-producing plants like sunflower and sesame grown around rice crops in parts of Asia promoted spiders and beneficial insects that controlled serious rice pests such as leafhoppers.
"The levels of pest suppression from 'flower power' are so dramatic that the farmers hosting our field experiments applied fewer sprays while rice yields increased by five per cent," Professor Gurr said.
"This is a double bonus for farmers as they save money on input costs and labour as well as getting extra income from the higher rice yields."
In addition, farmers were able to harvest the border flower crops for local use or sale, and benefit from fewer sprays with fewer side effects on their chickens and other livestock that are often reared in or around rice fields in Asia.
"This work is exciting because we need to double food production in coming decades to meet escalating human needs but we cannot keep clearing forest for farmlands, or boosting yields by increasing inputs such as fertilisers and pesticides," Professor Gurr said.
"Agronomists have recognised for years that ecological approaches can be more sustainable and less damaging to the environment, but this extensive study is the first to convincingly show that approaches like 'flower power' can work so effectively that the need for inputs is reduced, and at the same time yields are boosted."
Professor Gurr added that the scientific challenge now is to develop similar approaches that are suitable for other cropping systems.
"This will involve research to understand the underlying ecology so that approaches such as 'flower power' to suppress pests deliver additional benefits such as biodiversity conservation and pollinator enhancement," he said.
The research also demonstrated the value of international collaborative research in agricultural sciences.
"With the research team we assembled from China, Vietnam and Thailand, we ran detailed experiments on multiple sites, in three countries over four years, giving confidence in the robustness of our results," Professor Gurr said.
"It really is very exciting for me and fellow scientists to have this work recognised in such a prestigious international journal as Nature Plants ."