An animal science student from Charles Sturt University (CSU) has returned from South Africa with her passion for wildlife conservation firmly intact.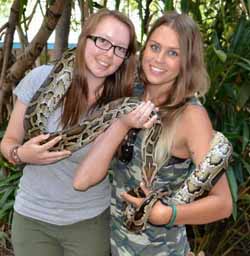 Ms Emily Rheinberger from the
School of Animal and Veterinary Sciences
at CSU in Wagga Wagga took part in a 22-day program called Vets-in-the-Wild Expedition run by EcoLife Expeditions.
"We learnt how to handle lion cubs and how to manage elephants," Ms Rheinberger said. "We learnt practical bush skills and how to track wildlife on foot and study wildlife behaviour in South Africa's Loskopdam Nature Reserve.
"The program also covered the care and rehabilitation of a wide range of wild-life species, learnt about reptile care, and learnt about the ecology of the nature reserves in southern Africa.
"One of my favourite days of the trip involved the vaccination of wild buffalos. The veterinarian was darting them from a helicopter and we were following on the ground in utilities.
"We had to quickly inject the animals, measure their horns then give them an injection to wake them up. We needed to be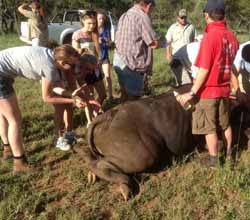 back in the vehicle before the buffaloes woke because they are one of the deadliest animals in Africa. It was a very fast paced day!
"My passion for wildlife led me to this international study program. I wanted to experience all I could overseas and learn from the people leading wildlife conservation," she said.
Now in her third year at CSU, Ms Rheinberger from Wagga Wagga said, "I would love to research Australian and exotic wildlife behaviour despite most of the career opportunities for my degree being in animal production.
"It's a remarkable experience to travel abroad and experience other cultures and lifestyles as well as gaining academic and career enhancing experiences. It gives you a better grasp on where you want your future studies and career to take you.
"This trip to South Africa is the best experience of my life so far. I made heaps of close friends and participated in things in South Africa that I would not be able to do in most other countries."
The Vets-in-the-Wild Expedition focused on the crucial role of veterinarians in the growing wildlife industry in southern Africa, tracking wildlife in the bush and assisting in game capture operations.
CSU Global
is an initiative to encourage overseas study experiences.