It may seem a long way from the 26 atolls in the Indian Ocean but two new Charles Sturt University (CSU) students from the Maldives are exactly where they want to be.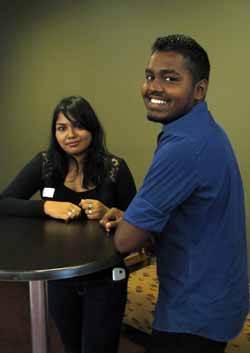 Ms Sarah Jamal and Mr Nimal Mohamed arrived at CSU at the end of January to almost immediately undergo an intense orientation program ahead of the start of a
Bachelor of Health and Rehabilitation Science
at CSU in Albury-Wodonga.
The pair is part of a group of six new CSU students in 2013 to secure Australia Awards Scholarships from the Federal Government's international aid program, AusAID.
Three new undergraduate and three postgraduate students hail from the Maldives, Vietnam and Fiji and will study at CSU in Albury-Wodonga, Orange and Wagga Wagga.
Ms Jamal and Mr Mohamed spoke of their excitement at studying in Australia when they mingled with political and civic leaders at a recent civic reception hosted in their honour by the Mayor of Wagga Wagga, Councillor Rod Kendall.
Ms Jamal said, "Despite the short time I have been at Charles Sturt University, I feel at home. All the staff have been extremely welcoming, friendly and eager to help with any difficulty. I am looking forward to starting my university studies soon".
Mr Mohamed echoed those sentiments.
"At first I was a bit nervous about how things might be at Charles Sturt University, because we are the first to come here from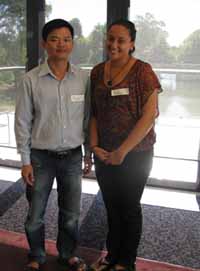 the Maldives. Even though this is the case, it felt like home from our arrival. I would take this opportunity to thank all the staff who have helped me."
"I am very excited to be studying here as I am the first member of my family to go to an overseas university," Ms David said.
"I always wanted to become a veterinarian. I have amazed myself that I got an AusAID scholarship."
The University's Senior Learning Skills Advisor, Dr Peter Butler said, "These six students have been awarded AusAID scholarships because they have the ability to bring change in their countries in the fields of sustainable agriculture, animal science, veterinary science and rehabilitation.
"They have had a fast learning curve since arriving in Australia through our introductory program in Wagga Wagga, which covers everything from setting up a bank account, to transport and health issues and the support services available at Charles Sturt University.
"We accept a number of students on AusAID scholarships annually but this year we have welcomed one of our larger groups. I am confident they will do well and seize all the educational and social opportunities ahead of them here."
AusAID's Australia Awards Scholarships aim 'to promote knowledge, education links and enduring ties' between Australia and its neighbours. Read more
here
.