* Native fish in the Murray Darling Basin encounter a vastly changed environment since European settlement
* Native fish are significantly below pre-European levels, and a range of measures are needed to re-build numbers while maintaining water resources for all users
* CSU is working with various groups to find better outcomes for native fish and users using management tools and viable structures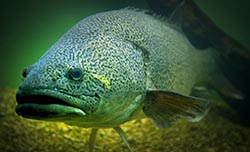 Charles Sturt University (CSU) fish ecologist with CSU's Institute for Land, Water and Society, Dr Lee Baumgartner, reports that native fish (such as the Murray cod, left) are no-where near as abundant in the Murray Darling Basin as they were before European settlement.
"The water in the Murray Darling Basin now has so many users – for town supply, irrigation and recreational users, as well as for the environment," said Dr Baumgartner.
"There are significant efforts underway try to work out how we can accommodate all these users while maintaining or increasing fish numbers as high as we can."
Listen to Dr Lee Baumgartner
Loading...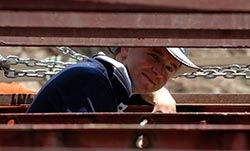 In the podcast, Dr Baumgartner (pictured left) discusses the current state of the Basin's native fish populations, the issues they face, and possible management strategies and structures, including fish ladders that can assist these populations.
He also outlines recent studies undertaken by CSU researchers that seek to optimise these management techniques, and how these are now being extended to collaborators around the world, particularly in the mighty Mekong River catchment in Southeast Asia.
Some of this research will be presented at the International Fish Passage 2018 conference to be held between Monday 10 and Friday 14 December in Albury, NSW, which includes a public lecture by Dr Zeb Hogan from National Geographic TV show, MonsterFish.